Fireside Chat featuring Amber Gentile, Ed.D.

You are cordially invited to attend Bryn Athyn College's Fireside Chat series hosted by Dr. Kelly Ballard, Head of Graduate Programs in Special Education. This monthly series will present experts in the field of education to share their experience, their passion, and their expertise related to topics impacting educators today.
Topic: Self-Care for Educators: An analysis of the terms secondary traumatic stress, compassion fatigue, and vicarious trauma will be discussed. A framework to promote teacher resilience and a review of self-care strategies for educators will be shared along with tips, strategies, and activities for educators to better promote self-care to support themselves, and ultimately their learners.
Speaker: Dr. Amber Gentile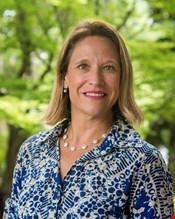 Dr. Amber Gentile, Assistant Professor of Education and Assistant Director of the Jordan Center for Children of Trauma and Domestic Violence Education, coordinates the Graduate Secondary Education and the Undergraduate Special Education programs at Cabrini University. Her background in alternative, special, and juvenile education as well as school administration and counseling has made her passionate about preparing educators to meet the holistic needs of students. She is passionate about sharing best practices in meeting the needs of all learners while also supporting the social-emotional and mental health of educators and learners.
Thursday, May 13, 2021
Other Dates For This Event:
---
Contact:
Kelly Ballard


Categories:
Online Event

Bryn Athyn
,
PA
19009