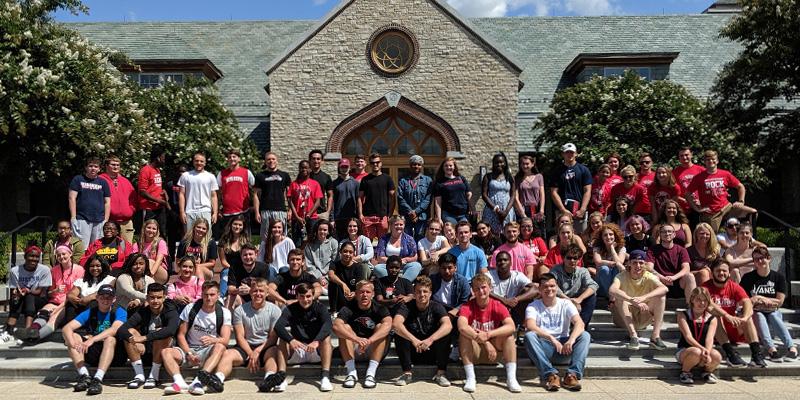 New Student Orientation
We are excited that you will be joining us as a Lion this year! New Student Orientation is broken into a few parts to ensure a smooth transition to Bryn Athyn. All students are required to complete Pre-Orientation Training, New Student Orientation Part 1 and Part 2. schedules vary by each term.
Schedule & Requirements
Pre-Orientation Training Requirements
All new students are required to complete a few training modules in our online training program administered by Vector Solutions (formerly known as SafeColleges). If you do not complete all modules by the first day of the term enrolled, you may be de-registered from your classes and/or a hold will be placed on your student account, affecting your ability to enroll or change classes during the year.
Keep in mind that there may be additional trainings assigned if you are a student-athlete or updates to regulations occur during the school year (you will be notified by email if this happens).
Accessing Vector Solutions Training
You can access the Vector Solutions Login using your brynathyn.edu email address sent to you by the Network Services department. If you have trouble logging in or have a question about the training, please contact advising@brynathyn.edu.
Moodle Account & Math Proficiency Exam
Moodle is our Learning Management System where most faculty will post their course syllabus, materials and assignments in one easy to use platform. This will be an important resource for you during your time at Bryn Athyn. Contact Network Services Helpdesk if you have trouble accessing your account (Helpdesk@brynathyn.edu)
All incoming students are required to take the Math 101 proficiency test if they did not submit SAT/ACT scores prior to their registration appointment with their academic advisor in order to be appropriately placed in a math class.
To take the Math Proficiency Exam, In Moodle:
Login into your Moodle Account
Click on "Mathematics"
Choose "Mathematics Placement tests" - Math 101 Placement test.
Other Important Requirements/Deadlines
Remember to check your Bryn Athyn College email account often prior to classes as this is how the College will be communicating with you after the account is created and while you are enrolled.
Please check the Enrollment Pathway Page to ensure you complete all enrollment and paperwork requirements prior to starting classes. Specific deadlines are listed there.
New Student Orientation (Part 1)
For Fall term students, NSO Part 1 will be held on campus with a half day event orienting you to academic expectations and registration information. To provide the best experience and follow social distancing requirements, we will be asking students to RSVP to one session on either July 19, 2022 or August 6, 2022, as well as a separate appointment with your academic advisor.
Schedule for Part 1
Students will meet the first-year academic advising staff and Deans, engage in social events with other first year students, learn about access to campus resources, pre-registration course schedule and making an appointment 1:1 with an advisor in the following weeks (either remotely or in-person), take the 45-minute writing assessment for proper course placement (waived if you have submitted an SAT Evidence-based reading and writing score of 450).
Student Program
July 19, 2022 (Brickman Center)
or
August 6, 2022 (College Center)


11:00am-11:20
Event Check-In
11:25-11:30
Welcome to Students & Parents
11:30-12:00
PAL Activity

12:00pm-12:45
Lunch (provided for all)
12:45-1:15
Academic Expectations & Success at Bryn Athyn
1:15-1:30
Financial Aid & Bursar
1:30-1:45
Health & Wellness
1:45-2:00
Public Safety
2:00-2:15
Advisors & Bookstore
2:15
Closing
2:15-3:00
Tours & Campus Store (optional)
Requirements for Part 1
Please bring a laptop to NSO Part 1 event as there will be writing placement exam available for those who did not did not submit SAT/ACT scores. The IT/Helpdesk will also be available in case you need assistance setting up any accounts while you are on campus.
New Student Orientation Part 2
For Fall term students, NSO Part 2 will be held on campus from Sunday August 21, 2022 to Wednesday, August 24, 2022, prior to classes starting on Thursday, August 25th, 2022. Part 2 is required for all new students, so please plan to attend all the required sessions on campus. No registration necessary.
Campus Residents will be required to schedule appointments to move onto Campus on Sunday, August 21st. Specific move-in information will be provided by Residence Life to your brynathyn.edu account.
For accessibility or accommodations for an event, please contact Residence Life or Admissions at least one week prior to event to ensure that we can best accommodate your needs.
Resident students will move-in, engage in social activities and meetings. All students will partake in a service day project, placement exams (if needed), workshops that focus on discovering more about your strengths, yourself and others, social events with other first year students, the annual President's Welcome & Candlelight Prayer event. Events marked with * are required for all new students.
All events are at the College Center unless noted otherwise.
Sunday August 21st
9:00am-2:00pm

Check in for New Students

Health Services & Residence Life (

Optional for commuting students unless NSO Part 1 was not completed over summer)
11:30am-1:30pm
Lunch
2:00pm-3:00

NSO Part 1 (RSVP required)*

(Only required for students who have not completed NSO Part 1 earlier in the summer)

3:00-5:00
Free time
5:00-6:30
Dinner
7:00-8:00

Residence Halls Meetings*

(Only required for resident students)

8:30-10:30
S'mores & Games (Grant Hall Fire Pit)
Monday August 22nd
8:00am-9:00
Breakfast (Brickman Dining Hall)
9:00-9:15
Schedule Review*
9:15-9:30
Spiritual Life*
9:30-9:45
"Puzzle Piece" Activity*
9:45-10:15
Student Involement Panel*
10:15-10:45
Navigating a Useful Life*
10:45-11:45
Campus Safety*
11:45-12:15pm
Financial Literacy*
12:15-12:30
Library Resources
12:30-1:15
Lunch (Brickman Dining Hall)
1:30-2:00
Student Expectations*
2:00-2:30
Campus Electronic & IT Resources*
2:30-3:30
Suicide Prevention*
3:30-5:30
Free Time
Athletic Practices
5:00-6:30
Dinner (Brickman Dining Hall)
8:30-10:30
Blacklight Volleyball
Tuesday August 23rd
8:00am-9:00
Breakfast (Brickman Dining Hall)
9:00-9:15
Meet with PAL Group* (Doering Center)
9:15-12:30pm
PAL Discussion & Review*
Navigating a Useful Life*
Clifton Strengths*
Diversity, Equity, and Belonging*
12:30-1:15
Lunch (Brickman Dining Hall)
1:30-2:00
Academic Expectations*
2:00-2:30
Academic Success Center*
2:30-3:00
Emergency Preparedness*
3:00-3:30
Title IX*
3:30-5:30
Escape Room (Library, until 4:30)
Athletic Practices
5:00-6:30
BBQ Dinner (Brickman Bean)
Wednesday August 24th
8:00am-9:00
Breakfast (Brickman Dining Hall)
9:00-9:15
Chapel*
9:15-11:45
Group Service Project* (Location TBA)
11:20-1:20pm
Lunch (Brickman Dining Hall)
1:20-2:30
Language Placement Exam (Spanish, German, & French, Pendleton Hall)
1:30-4:30
Open Advising
7:00-8:30
President's Welcome* (business casual attire)
8:30-8:45
Candlelight Welcome Walk
Classes begin Thursday
Winter & Spring Term Orientations
The New Student Orientation program is consolidated for students enrolling after the Fall term and schedules are provided by the Orientation and Academic Advising Teams after enrollment. Typically, the schedule consists of an hour-long appointment with the academic advisor one to two weeks prior to the start of the enrolled term and is coupled with a required meeting with the Orientation team during the first Chapel block of the term.
Advising & Registration Appointment Dates:
Winter 2022/23 Term: TBA
Spring 2023 Term: TBA
In-Person Orientation:
Winter 2022/23 Term: TBA
Spring 2023 Term: TBA