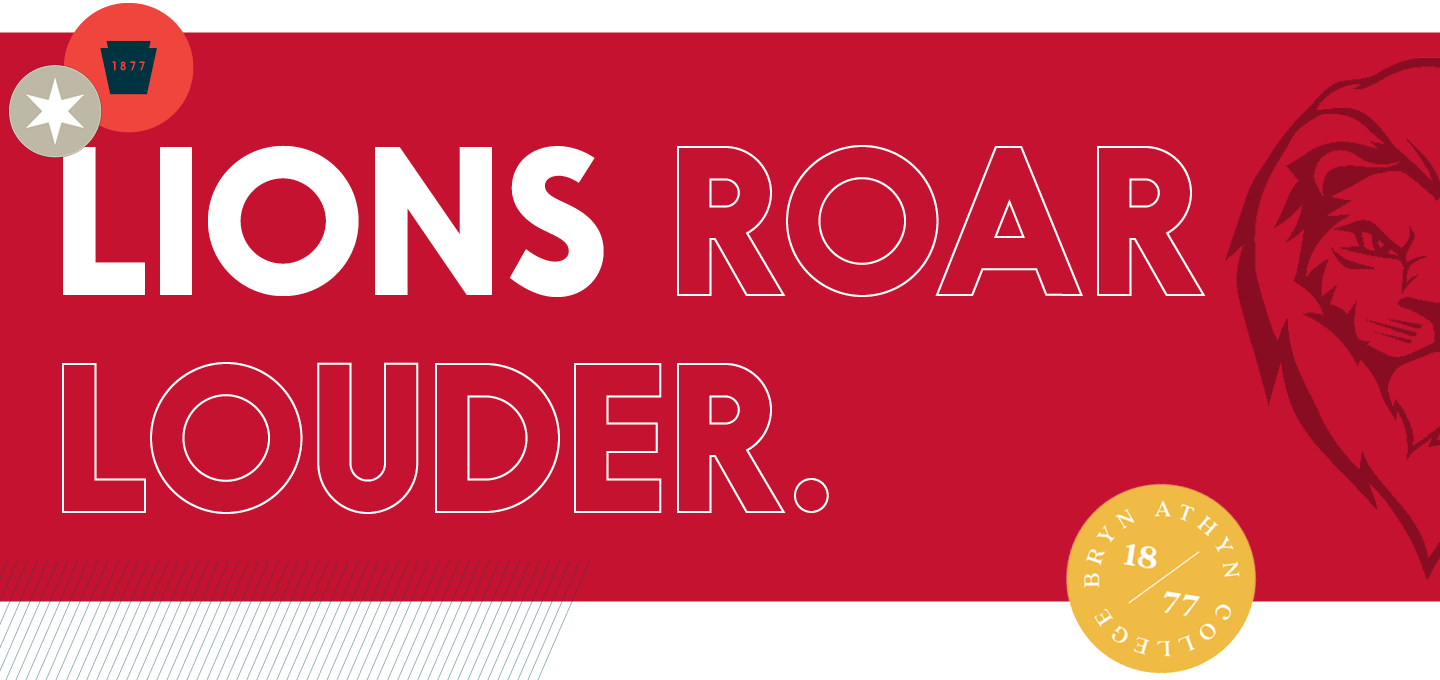 MAKE A BIG IMAPCT
When you're part of a school like Bryn Athyn, you're be surrounded by teammates who understand the commitment needed to balance practice, games, and grades. You'll have access to academic support programs designed specifically for athletes. Other teams will show up to support you. In your classes, your professors will help you achieve a degree that leads to a fulfilling life. Over half of Bryn Athyn students are athletes—and often participate in more than one sport.

>50%
Student body made of athletes
2-3
Sports played by average athlete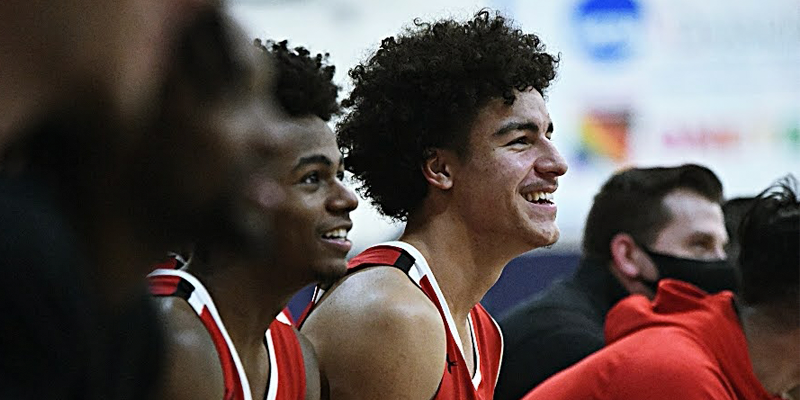 BELIEF IS THE MOST POWERFUL FORCE IN SPORTS


At Bryn Athyn College, you'll feel support from every part of the community. Grounded in the philosophy of the New Church, a Christian faith with a strong focus on living a life of purpose and love for others. It's an effect you can feel regardless of faith–on this campus, the bonds you forge last for life.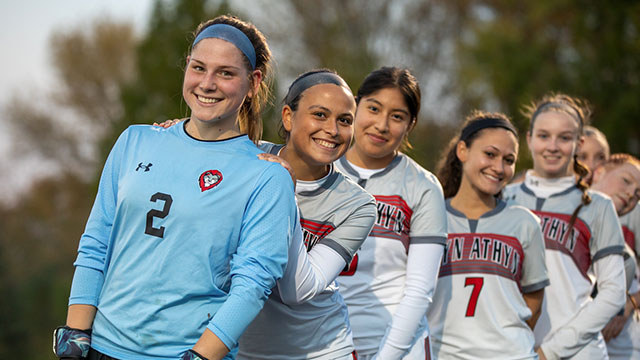 ATHLETIC TRAINING
Our NATA BOC certified athletic trainers manage the daily health care needs of our student athletes and work under the direction of our team physician from Rothman Orthopedics. The sports medicine staff also coordinates care by working closely with our nurse practitioner and mental health counselors located in our College Health Center.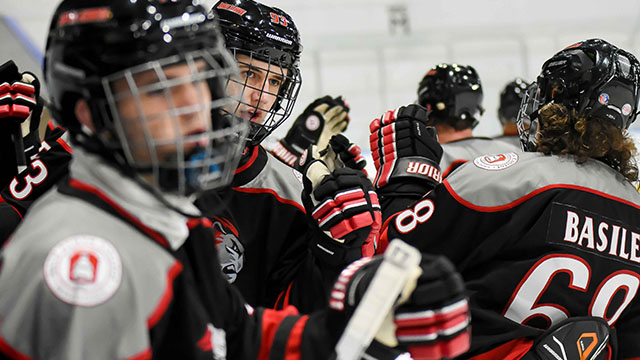 STRENGTH AND CONDITIONING
A dedicated strength and conditioning program. We are proud to go above and beyond for our athletes to succeed. Bryn Athyn offers focused training sessions with our highly-experienced NCSA certified strength and conditioning coach. We emphasize the importance of making healthy food choices and hydration for overall health and sports performance.

PHILOSOPHY OF ATHLETIC PROGRAM
WHAT LIONS ARE MADE OF
Not only do Lions of all different sports root for one another, they also give back to the broader community. In addition to showing up for younger athletes in the local area, Lions work with Athletes Helping Athletes, organizing fundraisers, games, and events for athletes with special needs. Our values are right there in our name:
| | | | |
| --- | --- | --- | --- |
| | L | Leadership - What happens on the field helps to prepare you for life long lessons such as staying supportive of your teammates when struggling with defeat, sharing success with others, staying resilient in the face of adversity, and the value of practicing charity. | |
| | I | Integrity - Live with conviction and honesty. | |
| | O | Opportunity - Achieve your goals and create opportunities for all. | |
| | N | Nobility - Develop your character and moral excellence. | |
| | S | Service - Make the world a better place. | |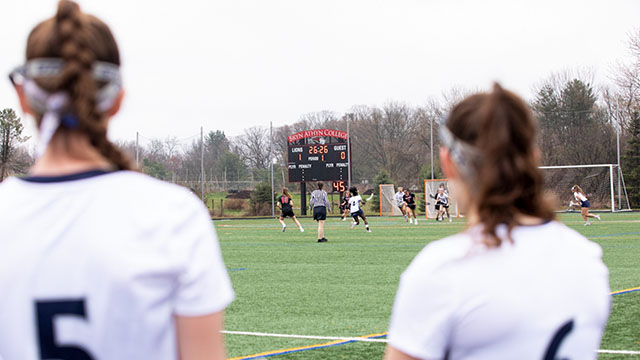 NEVER RUN OUT OF PLACES TO ROAM
At the center of campus you'll find the Major General Ronald K. Nelson field, a synthetic turf fit for soccer, field hockey, and lacrosse games. One of the greatest gems of our campus is the Jungé Pavillion an open-air ice rink. Want to get away from it all? There's 116 acres of open green space at North Campus perfect for hiking, biking, cross country running, and finding peace in nature.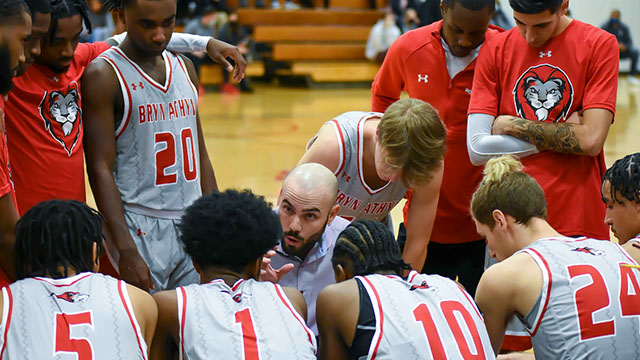 KEEP THAT WINNING STREAK
Bryn Athyn makes sure that every Lion can keep scoring goals, hitting their marks, and setting themselves up for success once they leave campus. All student-athletes must maintain good academic standing in order to continue participating in sports. To make sure that our athletes are reaching their full potential, students in their first academic term are part of additional academic support