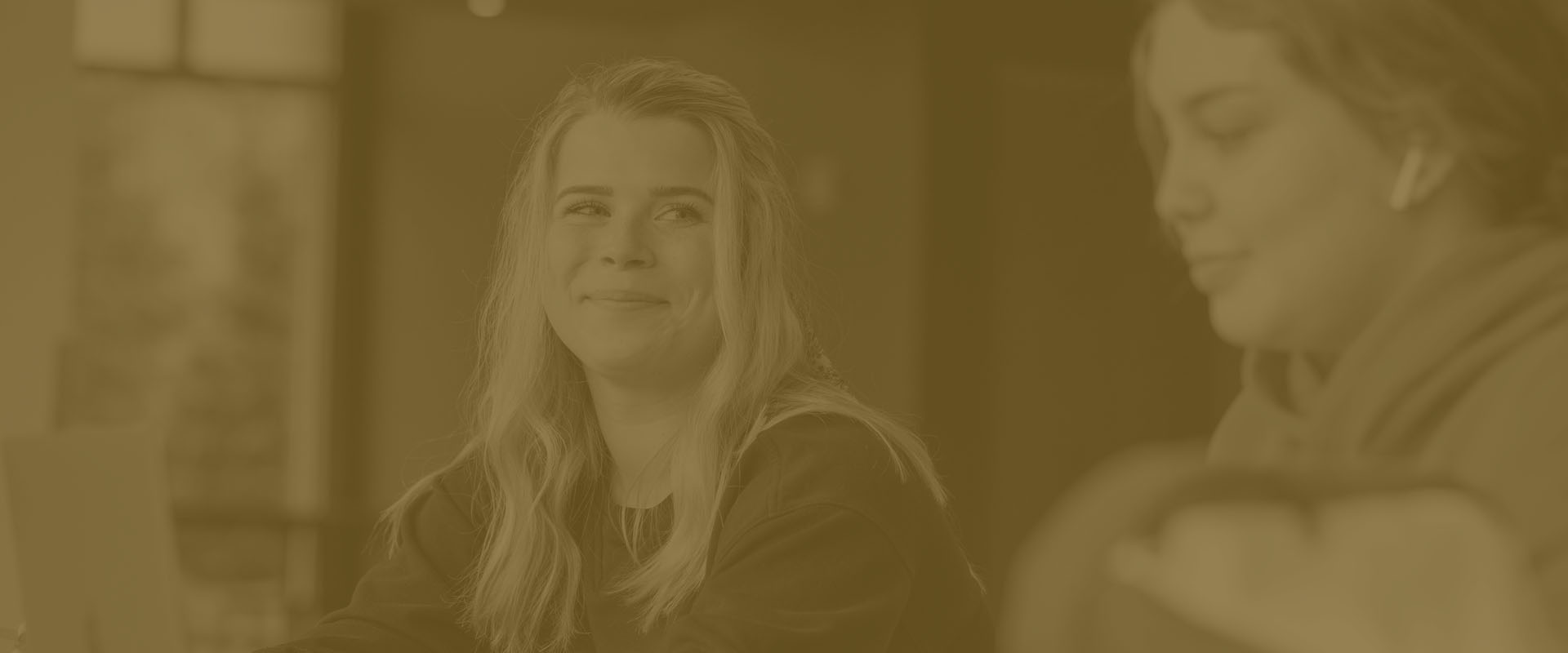 Financial Aid
Your Bryn Athyn education can be within reach. Through a variety of federal, state, and institutional sources, we strive to make a Bryn Athyn education affordable. In fact, most students are eligible for one or more types of assistance.
All students who are U.S. citizens or permanent residents and who wish to be considered for financial aid should file the Free Application for Federal Student Aid (FAFSA). The information provided in the application is used to calculate the applicant's Expected Family Contribution (EFC), and accordingly, the student's financial need. The student's FAFSA information is used to determine eligibility for government financial aid and institutional aid. For an estimate of your financial aid, use our Financial Aid Calculator.
Questions? Our financial team is available to help you with your personal financial plan. Call us at 267-502-6000 or email finaid@brynathyn.edu.
---
Types of Aid Opportunties
Financial assistance is available in many forms and most students are eligible for one or more of the following types of assistance.
Bryn Athyn College participates in Title IV federal financial aid programs. Federal financial aid is not available to students who are not U.S. citizens or permanent residents.
More information about federal grants and loans may be found at studentaid.gov.
Bryn Athyn College provides institutional tuition and housing grants to those students who show additional financial need after all federal and state financial aid has been awarded and who meet all other eligibility criteria.
There are several non-need based grants available for students in special categories. Visit the
Scholarships
page for more information.
Students may apply for part time, on campus employment and earn wages to help with their educational expenses. Student employee positions are available throughout the campus and the type of work will vary by department and job position.
You will be paid for wages earned and may opt to have all or a portion of your pay applied directly to your student billing account by contacting melanie.chiara@anc-gc.org.
The Pennsylvania Higher Education Assistance Agency (PHEAA) administers the Pennsylvania (PA) State Grant Program. This program is a financial assistance program that provides funding to eligible Pennsylvanians and helps them afford the costs of higher education at the undergraduate level. A PA State Grant is based on financial need and awarded to those students who meet the eligibility requirements. To determine eligibility, students must complete the Free Application for Federal Student Aid (FAFSA) form by May 1st and respond directly to PHEAA's request for any additional information. For more information, visit www.pheaa.org.
Tuition Prepayment Certificates (TPCs) help you save now for a child's future education. This program allows you to set money aside for ANC Secondary School and Bryn Athyn College tuition throughout the course of your child's lifetime. Because your TPC is invested, it returns interest and increases your original investment. For more information, or to purchase TPCs, please view the Tuition Prepayment Certificates brochure.
Parents and students (with an eligible co-signer) may be eligible to borrow educational loans through private lenders. Privates loans should only be considered after all other forms of financial aid including federal direct student loans have been exhausted. Interest rates and borrowing terms will differ among every lender and should be reviewed carefully before deciding on and proceeding with applying. For more information about some lenders commonly used by Bryn Athyn students and parents, visit the ELM Select comparison resource.
Also, as required by the Higher Education Opportunity Act, Bryn Athyn College has adopted a Code of Conduct which describes our expectations of integrity while working with students/parents and private lenders.
The Council of Independent Colleges-Tuition Exchange Program includes a network of 437 institutions of higher education in 48 states and 5 countries. They provide over 1,500 students with reciprocal scholarships annually. Member institutions, Bryn Athyn College included, provide tuition scholarships to qualifying students from families of full-time employees of other participating colleges/universities. Direct questions to the Human Resources/Tuition Liaison Officer – HR@brynathyn.edu /267-502-6038.
Financial Aid awards are subject to Terms & Conditions. Students acknowledge that they have read these terms and conditions by accepting the aid posted to their student billing account and/or by actively accepting loans and/or work study awards.
---
Applying for Aid
Students must complete the FAFSA to be considered for need-based institutional aid. Applications that are received after stated deadlines will be considered, but aid will be awarded only as funds are still available.
Domestic Students
U.S. citizens and permanent residents applying for financial aid should submit the Free Application for Federal Student Aid (FAFSA) as soon as possible after October 1.
Click here to fill out the FAFSA
Bryn Athyn College's school code is 003228.
FAFSA filers will automatically be considered for institutional grants; no additional application form is needed.
International Students
International students who are neither U.S. citizens or permanent residents will be considered for merit scholarships, but generally do no qualify for need-based aid. International students should submit an International Student Certification of Finances (PDF) to be considered for financial aid.
Special Circumstances Appeals
Students with special circumstances that are not reflected in their FAFSA information may submit a request for additional aid consideration using the Dependent Student Special Circumstances Appeal Form, or the Independent Student Special Circumstances Appeal Form. Examples of special circumstances include unemployment, death of a parent, or unusually high unreimbursed medical expenses. Appeal requests are reviewed by the Financial Aid Committee.
Verification Documents
Verification is a process that verifies the accuracy of the information reported on a student's FAFSA. Students may be selected for federal verification by the US Department of Education or institutional verification by the institution. If your FAFSA is selected for verification you are required to provide specific documentation to the school so they may verify the information you provided on your FAFSA. Please note that financial aid awards will not be finalized, disbursed, and/or credited to your student billing account until verification has been complete.
Completed verification worksheet


The Financial Aid Office will notify students via email as to which Verification Worksheet must be completed and submitted.
Students may log onto their online Student Status Portal, and go to their Checklist Items to view the applicable Verification Worksheet they are required to complete and submit.
Verification Worksheets:


IRS Data Retrieval Tool on your FAFSA or IRS Tax Return Transcripts

Students may use the IRS Data Retrieval Tool in the FAFSA. The IRS Data Retrieval Tool is the easiest and fastest way to provide federal tax return information for verification as it retrieves tax information from the IRS and populates it directly onto your FAFSA.
To request tax return transcripts online or by postal mail go to IRS Transcript Request Service. To request by phone, call the automated phone transcript service at 800-908-9946.
PLEASE NOTE: STUDENTS COMPLETING VERIFICATION FOR THE 2022-2023 ACADEMIC YEAR WILL NEED TO VERIFY 2020 TAX INFORMATION.

Other required documentation may vary for each student.
Dependency Override Appeal Process
Students who are experiencing extenuating circumstances that prevent the inclusion of parental information on the FAFSA may submit a Dependency Override Appeal. To appeal, please reach out to the financial aid office to provide a brief explanation of your situation. If the circumstances meet those we can consider, the appeal form will be requested along with supporting documentation. The circumstances below may warrant an override:
Whereabouts of both parents are unknown.
Removal from parents' home due to an abusive relationship.
Incarceration or death of parent(s) and no contact with non-custodial parent.
Parent(s) disowned and ended support for conflicting beliefs.
The circumstances below do not qualify for dependency override consideration:
Parent(s) are unwilling to supply FAFSA information or verification documents.
Parent(s) do not claim the student as a dependent on federal tax return.
Parent(s) provide no financial support for the student's education.
Parent(s) live outside the United States.
The student is self-sufficient.
---
Satisfactory Academic Progress Policy
Satisfactory Academic Progress (SAP) is used to define successful completion of coursework toward a degree to maintain eligibility for student financial aid at Bryn Athyn College. This policy is applied in the same way to students receiving any kind of aid whether it is federal, state, or institutional. Students must meet both qualitative and quantitative standards:
Qualitative Standard: Students must maintain a minimum cumulative 2.00 grade point average (GPA).
Quantitative Standard: Students must complete a minimum of 27 credits per year (9 credits per term).
To remain eligible for federal financial aid, students must complete a degree program within the maximum allowable timeframe (150% of the normal timeframe) based on student status and program as follows:
For those students pursuing an A.A., the maximum amount of time a student has to complete the program (62 credits) is 3 years or 12 terms.
For students pursuing a B.A., the maximum amount of time a student has to complete the program (130 credits) is 6 years or 18 terms (note that Bryn Athyn College institutional aid is only available for a maximum of 5 years or 15 terms).
For part-time students working toward their Bachelor's Degree, 80% of the credits attempted must be successfully completed for the degree program. The maximum time frame for a student to complete the program on a strictly part-time basis is 27 terms.
The Financial Aid Office monitors the progress of all students receiving federal, state, or institutional aid, and will verify that each student is meeting the requirements of SAP at the end of each academic year (or after three completed terms).
Learn more about the details of the SAP, such assessment monitoring, action in the event of failure to meet SAP requirements, and the appeal proccess.