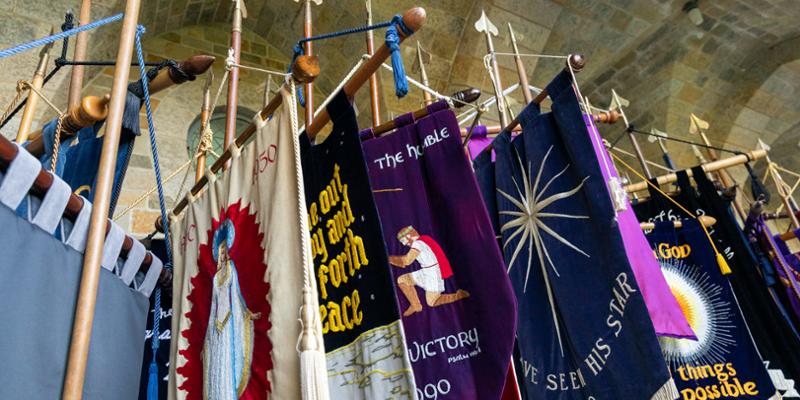 Charter Day 2021
Charter Day, Bryn Athyn College's homecoming weekend, is held every October during a weekend filled with events. It is a celebration of the signing of the Charter in 1877, which founded Bryn Athyn College and it's sister organization, The Academy of the New Church Secondary Schools.
Every year, traditional festivities include Bryn Athyn College alumni and friends reception events, Lions atheltic games, the family-friendly Kite Day, tours of various Bryn Athyn Historic District buildings, and a golf outing fundraiser for our Student Scholarship Fund.
The weekend begins with a visually-striking procession in which our students march from the Brickman Center to a worship service and address in Bryn Athyn Cathedral, led by the country flags of our International Student Organization.
COVID-19 Masking Policy for Charter Day Weekend 2021
Due to the high transmission rates of the COVID-19 in Montgomery County PA, we currently have the following masking policies in place to keep our students, staff, and guests safe:
Masks are to be worn inside all campus and Historic District buildings at all times. The exception to this rule is when people are seated and actively eating a meal.
Masks are not required outdoors, but we ask that you maintain a safe distance apart.
If this policy is amended, or additional policies implemented, we will let you know.
We are looking forward to seeing you in town for your reunions.
Bryn Athyn College Events
Thursday, October 7th, 2021
9:00am - 1:00pm
College Center
BAC Book Store Open
Friday, October 8th, 2021 (no classes)
10:15am
From BAC Campus to Bryn Athyn Cathedral
Procession
10:30am
Bryn Athyn Cathedral
Service and Address
1:00pm-4:00pm
Meadow behind College Center
Kite Day
Saturday, October 9th, 2021
10:00am
Spaulding Soccer Field
Alumni Soccer Game: BAC vs. ANC
1:00pm
Asplundh Field House
BAC Women's Volleyball Game
1:00pm
General Nelson Field
BAC Men's Soccer Game
3:00pm
General Nelson Field
BAC Women's Soccer Game
3:30pm-6:00pm
Jungé Pavilion
"Free Play" Event
7:00pm-10:00pm
Glencairn Museum & Cairnwood Estate
Drinks & Dessert in the District
9:00pm-11:00pm
College Center
Open Mic & Coffee House
Monday, October 11th, 2021
10:30am-7:30pm
Huntington Valley Country Club
Student Scholarship Golf Outing
View the entire schedule, including Historic District tours, worship services, community events, and more! Registration now open for Charter Day 2021 weekend.