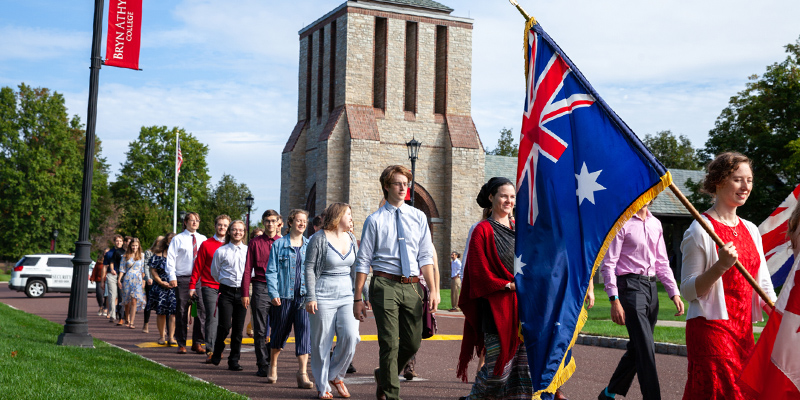 Charter Day 2023:
October 13-15, 2023
Charter Day, Bryn Athyn College's homecoming weekend, is held every October during a weekend filled with events. It is a celebration of the signing of the Charter in 1877, which founded Bryn Athyn College and it's sister organization, The Academy of the New Church Secondary Schools.
Every year, traditional festivities include Bryn Athyn College alumni and friends reception events, Lions atheltic games, tours of various Bryn Athyn Historic District buildings, and a golf outing fundraiser for our Student Scholarship Fund.
The weekend begins with a visually-striking procession in which our students march from the Brickman Center to a worship service and address in Bryn Athyn Cathedral, led by the country flags of our International Student Organization.
BAC Highlight Events
Friday October 13, 2023 (no classes)
10:15 am
From Brickman C

olonnade

to Bryn Athyn Cathedral
Procession to Bryn Athyn Cathedral
Traditional procession of students, faculty, and corporation.
10:30am
Bryn Athyn Cathedral
Service and Address
Given by Rev. Chris Barber

12:00pm-4:00
College Center and Campus Green
Community Field Day
Bring the family and enjoy outdoor games & activities. Hosted by BAC Student Life. Refreshments available
for purchase.
2:00pm-3:00
Mitchell Performing Arts Center
Updates from BAC and ANCSS Leadership
The Rt. Rev. Peter M. Buss Jr. will provide a welcome before we hear brief updates from ANCSS and BAC President Rev. Eric Carswell. Light refreshments being served in the lobby. No reservations or tickets necessary.
7:00pm
College Center
BAC Alumni Awards
All are invited to the presentation of Bryn Athyn College Distinguished Alumni Award to the 2023 recipients. Reception to follow.
8:00pm-10:00
College Center
BAC Alumi Reception
21+ event, live music by Freya and the Daydreams, and refreshments, gather your classmates for BAC reunion photos at 9:00pm. Register
online, tickets include 2 drink tickets. Additional drink tickets are available for purchase at event.
Saturday October 14, 2023
10:00am
Spaulding (Soccer) Field
Alumni Soccer Game: BAC vs. ANCSS
12:00pm
General Nelson Field
BAC Women's Soccer & Tailgate
Wear your red and white BAC swag and come fill the hill to watch this championship team play! Refreshments will be sold or bring your own tailgate snacks. Proceeds will support BAC Athletics.
1:00pm
Asplundh Field House
BAC Women's Volleyball Home Game
2:00pm
Asplundh Field House
BAC Women's Volleyball Alumni Game
Sign-up to play by emailing Amber Wood, amber.wood@brynthayn.edu
7:00pm-10:00
Cairnwood Estate
Drinks and Desserts in the District
The buildings of the Bryn Athyn Historic District will be lit, and Cairnwood will host drinks and desserts under the stars. Visit by the firepit and fountains, listen to live music, or play yard games on the terrace. $38 per ticket, includes mini-dessert buffet, hummus and veggies, cheese buffet, and 2 drink tickets for beer, wine or coffee. Additional drink tickets available for purchase at the door. Indoor access to Cairnwood will be available. Tent available in the case of inclement weather. 21+ event. Register online.
7:00pm-10:00
College Center
Open Mic Night
Hosted by BAC Student Life, for students and community members. Performers sign-up
with Jackie Bein at jacqueline.bein@brynathyn.edu
Sunday October 15, 2023
12:00pm-1:00
Brickman Dining Hall
BAC Sunday Brunch with Leo the Lion
$11 for adults, $5 for children 10 & under. Register online.
View the full list of scheduled events with our sister insitution the Academy of the New Church Secondary Schools.