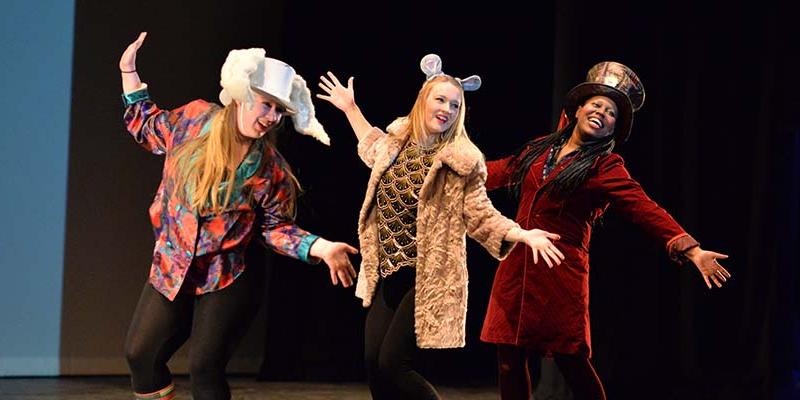 Performing Arts
At Bryn Athyn College, we have a long history of participation in the performing arts. Through musical, theatrical, and dance performances, there are ample opportunities for artistic expression on stage, as well as backstage opportunities for those interested in theater technology and production.
Some on-campus performance opportunities are audition based, requiring a certain skill level for participation. Other opportunities are open to all, and welcome students of all skill levels. Our students can join the Dance Ensemble, act in a musical or play, or join BAC A Cappella; and some of them even do it all.
In keeping with our College's mission, performance arts at Bryn Athyn are not just for fun; they also include elements of community service and community building. For example, our unique student-faculty rock group, Bryn Athyn College ROCKS!, hosts benefit concerts, and our students routinely give their time to help to run the lighting and sound at performances at the Mitchell Performing Arts Center.
About the Mitchell Performing Arts Center
Performing arts at Bryn Athyn College benefit from our state-of-the-art on-campus theater, the Mitchell Performing Arts Center. The building's history dates back to around 1929, and over its many years as a theater, it has hosted hundreds of musicals, plays, concerts, and performances.
In the 1980s, a group of theater enthusiasts in Bryn Athyn collaborated to achieve their vision of a new community theater. Among this group was Mimi Mitchell, a longtime supporter of the performing arts and drama teacher at the Academy of the New Church Secondary Schools. In addition to being one of the major benefactors of the project, Mimi contributed her substantial enthusiasm and theatrical experience.
The Mitchell Performing Arts Center was built through major renovations to what used to be known on campus as the Assembly Hall. The original building was a combination stage and gymnasium, typical for many church and educational facilities of the time. Much of the original structure can still be seen in our theater today. Though the orientation of the stage was flipped 180 degrees, the original proscenium arch stands at the back of the house. Visitors enter the lobby and proceed from what was originally backstage through the arch and into the auditorium.