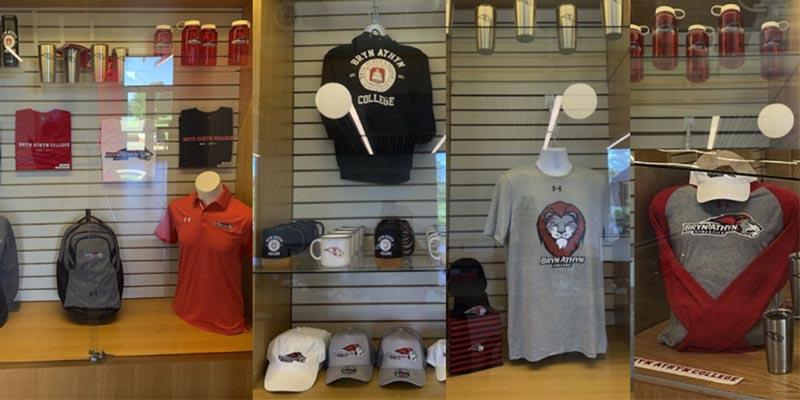 Campus Store
The Bryn Athyn College Campus Store is in the main lobby of the College Center next to the Lions Cafe. It's your one stop shop for supplies, BAC apparel, accessories, and more. The store accepts payment at the time of purchase in the form of cash, check, credit card, and Campus Cash.
For more Lions Apparel options visit our online athletic store or ask one of our staff for options to order onsite!
Store Hours & Contact
Monday-Friday : 10am - 2pm
267-502-2612
2925 College Dr., PO Box 740
Bryn Athyn, PA 19009
Return Policy
Any item is eligible for return with or without a receipt as long as all parts of the item, including any tags or packaging, remain unused and intact.
Academic Course Materials
Bryn Athyn College uses an online bookstore hosted by Ambassador Education Solutions.
Logging In:
You will login to the online bookstore with your Microsoft 365 school account. If you are already logged into your Microsoft 365 account (through Moodle or your BAC email, for example), the Login button will take you directly to your Order History page with a link to place a New Order. If you are not logged into your Microsoft 365 account already, log in to the online bookstore site with your BAC email address.
Using the Bookstore:
On the My Account page, use the New Order button, which will take you to a list of courses.
Use the radio buttons to select the courses you are registered for. (Log in to SONIS or check with your advisor if you're not sure.)
Each course you select will appear. Verify each Course Name and Course Number (i.e. Rel101-4 is Introduction to New Church Doctrines, section 4) with your Fall term schedule. Book title, ISBN, and purchasing options (including marketpace and ebook options in some cases) are also shown on the page.
Tips:
Save the packing when your books arrive. If you drop a class the first week of term, instructions are provided on the website for returns.
Some books are available for buy back at the end of term. Ambassador will provide a free shipping label.
Some books are available for short term rental.
You are not required to purchase your books from this bookstore website.
Students receiving federal aid may be eligible for bookstore credit of up to $350. View and complete the application if you qualify with our Textbook Voucher.
Please contact the Course Materials Manager with questions:

Christy Broberg
christy.broberg@brynathyn.edu
267-502-6093
---
Textbook Request Form - For faculty use only.