Darkness and Light: DVMA Spring Meeting 2021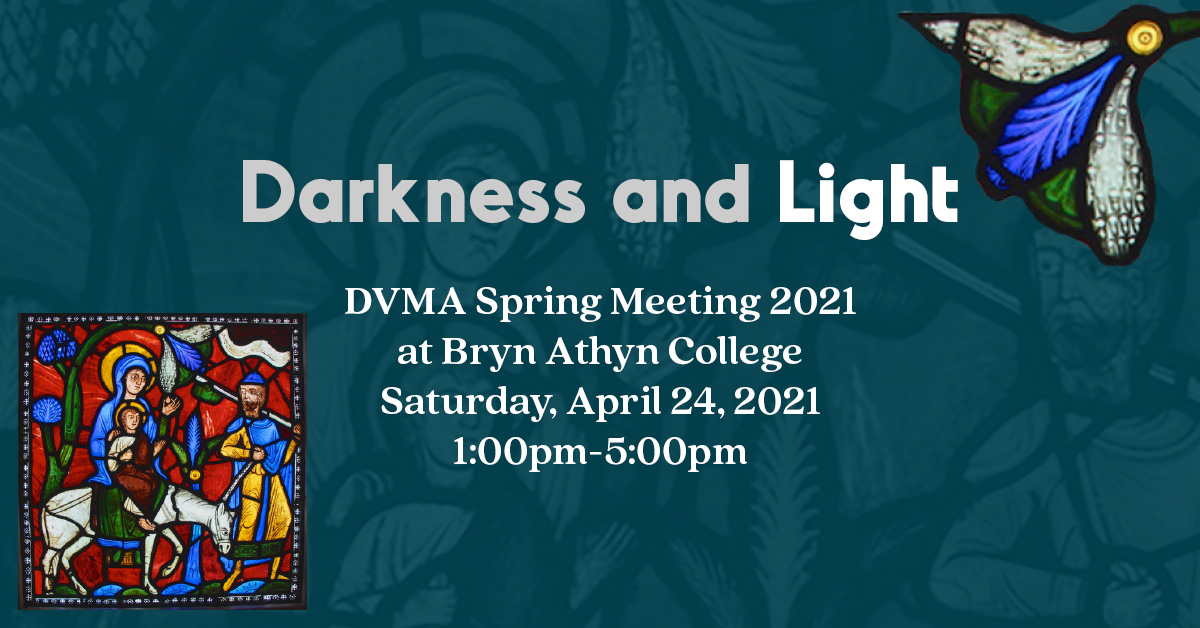 The History/Social Sciences and Arts departments at Bryn Athyn College in partnership with Glencairn Museum are proud to host the Spring Meeting of the Delaware Valley Medieval Association (DVMA) for 2021.
The theme is "Darkness and Light" and the program features three speakers followed by a visit to Glencairn Museum, located across from the Bryn Athyn College campus.
The DVMA spring meeting is a hybrid event, meaning a limited number of participants may attend in-person with others participating virtually via Microsoft Teams (a Zoom-like application). For safety reasons, the DVMA meeting will follow all applicable COVID protocols. In-person attendance requires advance registration and is limited to twenty in accordance with state guidelines for the event spaces. Temperatures will be taken at the event check-in. Attendees must wear masks at all times and maintain social distancing. No food or beverages will be served in buildings. On the morning of the event and prior to coming to campus, all in-person attendees are required to fill it out a visitor screening form. Further details on protocols will be provided during the registration process.
Schedule of Events:
| | |
| --- | --- |
| 1:00pm | In-person attendees arrive at Bryn Athyn College (Doering Center Room 119; 2915 Campus Drive, Bryn Athyn, PA 19009) |
| 1:20pm | Welcome: Wendy Closterman (Dean of Academics, Bryn Athyn College) |
| 1:25pm | Opening remarks: Ana Pairet (DVMA President, Dept. of French, Rutgers University) |
| 1:30-3:00pm | Speaker Session |
| | Sean Lawing (Dept. of History, Bryn Athyn College) "'Let the dirge be sung': The Burial of Body Parts in Old Icelandic Grágás" |
| | Montserrat Piera (Dept. of Spanish and Portuguese, Temple University) "Light in the Darkness: Clarissan Affect in Isabel de Villena's Vita Christi" |
| | Jonathan Kline (Arts Department, Bryn Athyn College) "The Clarissan Context of Glencairn's Last Judgment and Annunciation Frescoes from Santa Maria Inter Angelos" |
| 3:00pm | In-person attendees proceed to Glencairn Museum. (1001 Cathedral Road, Bryn Athyn, PA 19009). Weather permitting, light refreshments will be served outside in the Glencairn Museum cloister observing all applicable COVID protocols. |
| 3:10pm | Welcome: Brian Henderson (Director of Glencairn Museum) |
| 3:30 & 4:00pm | Semi-guided tours of medieval collection in Great Hall, Upper Hall, Balcony, and Medieval Gallery with number of participants on each tour limited by COVID protocols. Discover more information on the history of Glencairn Museum and the Glencairn Museum medieval collection |
| 4:45 | End |
Parking: Parking is available free of charge, adjacent to both the Bryn Athyn College Doering Center and Glencairn Museum. View the map of the campus including parking lots.
Accessibility: Both the Bryn Athyn College Center and Glencairn Museum are accessible with designated parking spots and elevators. At Glencairn Museum, accessible parking spots and drop-off area are available near the Glencairn Museum entrance. Some areas in Glencairn have a few steps. Visitors are asked to advise Glencairn Museum of any accessibility needs in advance.


Saturday, April 24, 2021
---
Contact:
Sean Lawing


Categories:
2915 Campus Drive

Bryn Athyn
,
PA
19009