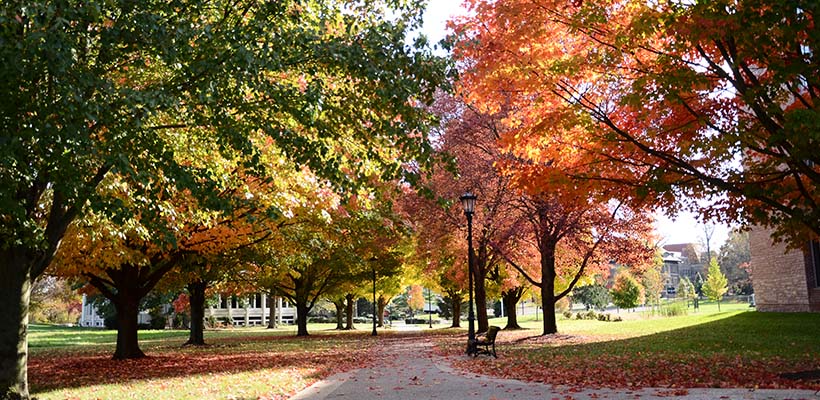 Aid Eligibility
Please note the items below which could affect your aid eligibility at Bryn Athyn College.
Satisfactory Academic Progress (SAP)
Satisfactory Academic Progress (SAP) is used to define successful completion of coursework toward a degree to maintain eligibility for student financial aid. This policy is applied in the same way to students receiving any kind of aid whether it is federal, state, or institutional. Students must meet both qualitative and quantitative standards.Satisfactory Academic Progress Policy
Qualitative Standard: Students must maintain a cumulative 2.00 grade point average (GPA).
Quantitative Standards: Students must complete a minimum of 27 credits per year (9 credits per term).
To remain eligible for federal financial aid, students must complete a degree program within the maximum allowable timeframe (150% of the normal timeframe) based on student status and program as follows:
For those students pursuing an A.A., the maximum amount of time a student has to complete the program (62 credits) is 3 years or 12 terms.
For students pursuing a B.A., the maximum amount of time a student has to complete the program (130 credits) is 6 years or 18 terms (Note that Bryn Athyn College institutional aid is only available for a maximum of 5 years or 15 terms).
For part-time students working toward their Bachelor's Degree, 80% of the credits attempted must be successfully completed for the degree program. The maximum time frame for a student to complete the program on a strictly part-time basis is 27 terms.
Satisfactory Academic Progress Assessment
The Financial Aid Office monitors the progress of all students receiving federal, state, or institutional aid, and will verify that each student is meeting the requirements of SAP at the end of each academic year (or after three completed terms). All terms are included in a student's assessment, regardless of whether or not the student received aid.
Course Repeats: When a student repeats a course to replace a low or failing grade, a record of every grade remains on the transcript, but only the highest grade is used to calculate the cumulative GPA.
Withdrawals: Beginning with the 2018-19 year, withdrawals or classes dropped before the end of the second week will not be included in the academic progress assessment. Classes dropped or withdrawn after the second week will be counted as attempted credits in the assessment.
Incompletes: All 'incompletes' must be approved by the academic dean. Students have four weeks from the end of the term to complete the work of the course, otherwise the 'incomplete' automatically becomes an "F" and is counted in the assessment.
Transfer students: Transfer credits are included in the assessment of the quantitative standard as long as the courses count toward the current degree program. Grades from transferred coursework are not included in the calculation of the cumulative GPA; however, only courses in which the student received a "C-"or higher are accepted for transfer.
Change of Academic Program: When a student withdraws from one degree program and enters another, all coursework completed up to that point is still included in the SAP assessment up through 130 credits completed. After that, if additional coursework is required to complete the degree program, completed courses that do not count towards the degree program may be dropped from the measurement of cumulative GPA.
English Language Learner Coursework: ELL courses will be counted in SAP assessments.
Failure to Meet SAP Requirements:
If the Financial Aid Office determines that a student has failed to meet SAP standards at the end of the academic year (or completion of three terms), the student immediately becomes ineligible for aid. The student will be notified of the change in eligibility within two weeks of the assessment (typically mid-June).
Re-establishing Eligibility for Financial Aid
A student who has not met SAP standards is encouraged to consult with his/her advisor and the academic dean in order to make a clear plan for regaining eligibility. This plan will include the number of credits the student must successfully complete and the GPA that must be earned in the subsequent term to meet SAP standards.
Students may regain eligibility for aid by continuing with courses to bring their performance back into compliance with SAP standards. Students who are ineligible for aid due to an adverse SAP ruling do not have to wait until the end of the academic year to be reevaluated; they may ask the Financial Aid Office to review their record at the end of each term until their record is successfully brought back into compliance with SAP standards. Students may choose to take courses at another institution to regain compliance. (See SAP Assessment, Transfer Students.)
SAP Appeals
A student who fails to meet SAP standards may submit a written appeal to the Financial Aid Office within one month of being notified. However, we will still consider appeals that are submitted after the published one month deadline. An appeal may be submitted on the basis of circumstances beyond the student's control such as: injury, illness, the death of a family member, or other special circumstances with appropriate documentation. The appeal must
explain why the student failed to make SAP and what has changed that will allow the student to make SAP. The appeal will be considered by the Financial Aid Office in consultation with the academic dean. If the appeal is granted, the student may be placed on an academic plan to establish criteria the student must meet to make SAP. The student will be eligible to receive financial aid during the term for which the appeal was granted. The financial aid office will review the student's progress at the end of the probationary term.
Notice to Students with Financial Aid Regarding Drug Convictions
A federal or state drug conviction can disqualify a student for Federal Student Financial Aid (FSA) funds.
Convictions only count if they were for an offense that occurred during a period of enrollment for which the student was receiving financial aid- they do not count if the offense was not during such a period. Also, a conviction that was reversed, set aside, or removed from the student's record does not count, nor does one received when he/she was a juvenile, unless he/she was tried as an adult.
The chart below illustrates the period of ineligibility for FSA funds, depending on whether the conviction was for sale or possession and whether the student had previous offenses. (A conviction for sale of drugs includes convictions for conspiring to sell drugs.)
| | | |
| --- | --- | --- |
| | Possession of illegal drugs | Sale of illegal drugs |
| 1st Offense | 1 year from date of conviction | 2 years from date of conviction |
| 2nd Offense | 2 years from date of conviction | Indefinite period |
| 3+ Offenses | Indefinite period | |
If the student was convicted of both possessing and selling illegal drugs, and the periods of ineligibility are different; the student will be ineligible for the longer period.
A student regains eligibility the day after the period of ineligibility ends or when he/she successfully completes a qualified drug rehabilitation program. Further drug convictions will make him/her ineligible again.
Students denied eligibility for an indefinite period can regain it only after successfully completing a rehabilitation program or if a conviction is reversed, set aside, or removed from the student's record so that fewer than two convictions for sale or three convictions for possession remain on the record. In such cases, the nature and dates of the remaining convictions will determine when the student regains eligibility. It is the student's responsibility to certify that he/she has successfully completed the rehabilitation program.
Standards for a Qualified Drug Rehabilitation Program
A qualified drug rehabilitation program must include at least two unannounced drug tests and satisfy at least one of the following requirements:
Be qualified to receive funds directly or indirectly from a federal state, or local government program
Be qualified to receive payment directly or indirectly from a federally-or state-licensed insurance company
Be administered or recognized by a federal, state, or local government agency or court
Be administered or recognized by a federally- or state-licensed hospital, health clinic, or medical doctor
Drug Abuse Hold
The Anti-Drug Abuse Act of 1988 includes provisions that authorize federal and state judges to deny certain federal benefits, including student aid, to persons convicted of drug trafficking or possession. The United States Department of Education maintains a file of those who have received such a judgment, and it checks applicants against that file to determine if they should be denied aid. This is separate from the check for a drug conviction discussed above, but the result could be the same. Confirmation of a student being in the drug abuse hold file will produce a rejected application and the student will not be able to receive financial aid.