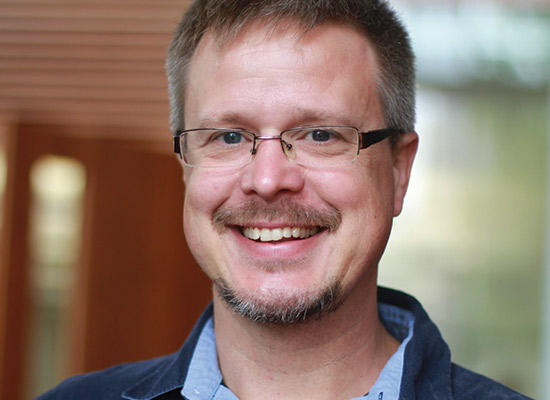 Fredrik Bryntesson
Head of the Biology Major and Science Department Chair
Biology
Associate Professor of Biology
Biology
Dr. Bryntesson is the head of the biology major and the director of faculty development. He teaches introductory biology courses focused on evolution, genetics, and molecular biology, and upper level courses on genetics and molecular biology, as well as the senior capstone course. His teaching philosophy is to facilitate learning for every student, ensuring the concepts of biology are accessible. He has previously been involved in molecular biology research, and is presently engaged in the ongoing deer study at Bryn Athyn College, a project that involves faculty and students at Bryn Athyn in collaboration with the Pennypack Ecological Restoration Trust. An avid fan of Bryn Athyn College ice hockey, he has also researched and written on Bryn Athyn's ice hockey history.
Bryntesson has a lifelong interest in ornithology and history, and his current main research project focuses on the historical status of the Ivory-billed Woodpecker (Campephilus principalis), the largest woodpecker to have inhabited the US. The numbers of this bird dramatically plummeted towards the end of the 1800s and the early 1900s, and some now fear that is extinct. Nevertheless, there have been many reports of Ivory-billed Woodpeckers in the last 75 years. Some of the searchers did not publish their findings out of fear for the safety of the birds. However, thanks to unpublished archival documents such as field notes, correspondence, and reports, we can learn more about what they knew about the bird. Therefore, we can gain an improved understanding of the historic status of the Ivory-billed Woodpecker. These documents provide important, interesting and fascinating accounts for not just the bird, but also about the devotion and dedication of the people that have searched for this bird. It is thus not just a story about the bird, it is also a story about people. Bryntesson has focused especially on searches for this bird in the 1930s up to the early 1970s.
Bryntesson worked for many years in student life at Bryn Athyn College, and is the leader of the College rock band, "BAC Rocks!" He serves the community as a voluntary member of the Holy Redeemer Health System's Institutional Review Board.
Education
PhD, University College London
BSc, University of Greenwich
BA, Bryn Athyn College