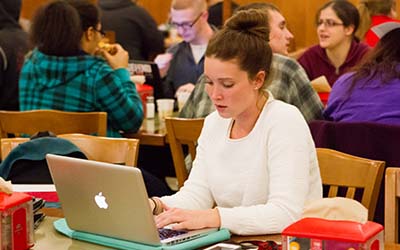 Part-Time and Auditors Registration
Part-time degree seeking students should fill out an application for admissions form. Part time non degree seeking students and auditors should complete the online form below. Occasionally, Bryn Athyn College offers Pop-Up Classes that are short 1 credit or ½ credit classes that do not follow the regular term or block schedule.
Non-degree seeking students are individuals whose goal is to take a limited number of courses for the purposes of personal or professional enrichment and who have no intent of accumulating credits toward a certificate or degree. This may include pre requisites for grad school. Students with a non-degree seeking status are not eligible for financial aid at Bryn Athyn.
Part-Time College Students: The total fee for part-time students is comprised of a tuition fee of $1,003 per credit and a comprehensive fee of $64 per credit. Students who register for less than nine academic credits per term are considered part-time students. This amounts to $3009 per 3 credit class. Students ages 60 or older may apply for discounted rate of: $469.50 + $64 per credit. This amounts to $1600.50 per 3 credit class. Senior Citizens are half off per credit tuition fee (the comprehensive fee still applies per credit).
Auditors: In addition to the tuition fee of $182.00 per credit, students are expected to pay the cost of any materials supplied to the auditor. In general, studio and laboratory courses are not open to auditors. This amounts to $546.00 per 3-credit class. Auditors aged 60 years and older may apply to the Bursar (bursar@brynathyn.edu) for a reduction in fees for a tuition of $87.50 per credit (course materials don't apply to this reduction).
Medical Clearance: All students must be medically cleared by our Health Services Department before coming to campus. Your registration is not official until you are cleared. Please fill out the Physical and Health Information Packet and return it to: Bryn Athyn College Health Services, Box 915, Bryn Athyn, PA 19009. If you have questions about the medical form, please call 267-502-6070.
Part-Time/ Auditors Registration Form: