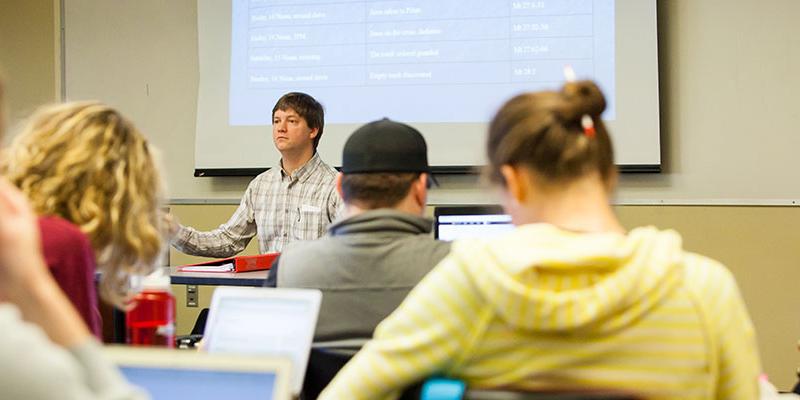 Core Program
Our Core Program emphasizes critical thinking, quantitative reasoning, information literacy, public presentation, and experiential education, as well as a religious foundation. It develops foundational skills, knowledge, and disciplinary perspectives that will serve students throughout a four-year college education and beyond.
Every major at Bryn Athyn College builds upon the Core Program, and every course in our curriculum addresses Core goals, either directly or indirectly. Ethics and technology are also crucial components of our Core Program and are addressed in specific ways by each major, with appropriate applications for particular disciplines.
Religious Instruction and Outlook
The central requirement of 12 credits of religious instruction, one course per year, supports students' education in all other areas. These courses include an exposure to essential New Church doctrines, and enforce skills in communication, analytical thinking, and information literacy. The third-year religion courses emphasize the development of writing skills. The fourth-year courses frequently include a public presentation dealing with religious scholarship or application.
The impact of New Church teachings on the Core Program involves more than just the specific religion courses. In support of our mission to enhance students' civil, moral, and spiritual lives, the Core requirements include 18 credits of courses with a primary focus on spiritual, moral, or civil thought.
Liberal Arts Perspectives
The College's mission statement articulates the achievement of a liberal arts education with special attention to spiritual, moral, and civil life. Traditional liberal arts requirements expose students to studies of human life in relation to God, society, nature, and self. With this foundation, students will be equipped to make informed and empowered choices in their lives.
Liberal Arts Core Skills
We emphasize the development of skills in keeping with New Church teachings about the importance of contributing positively to society. We are supported in this effort by accrediting agencies and advisory associations, such as the Association of American Colleges and Universities, that encourage institutions to make skill development and assessment a priority. The Middle States Commission on Higher Education emphasizes that an accredited institution's curriculum needs to develop students' proficiency in general education and essential skills, including "oral and written communication, scientific and quantitative reasoning, critical analysis and reasoning, technological competency, and information literacy" (Characteristics of Excellence in Higher Education: Eligibility Requirements and Standards for Accreditation (2002) Standard 12, General Education).
Practical skills supported through the Core Program include:
Information literacy
Public presentation
Quantitative reasoning
Writing
Second languages
Service learning
Core Program Outcomes
Our Core Program can serve by:
Teaching you to think broadly and critically from a number of perspectives.
Helping you develop spiritual purpose through religious instruction and outlook.
Empowering you with specific skills so that you may act effectively in society and the workplaces of the 21st century.