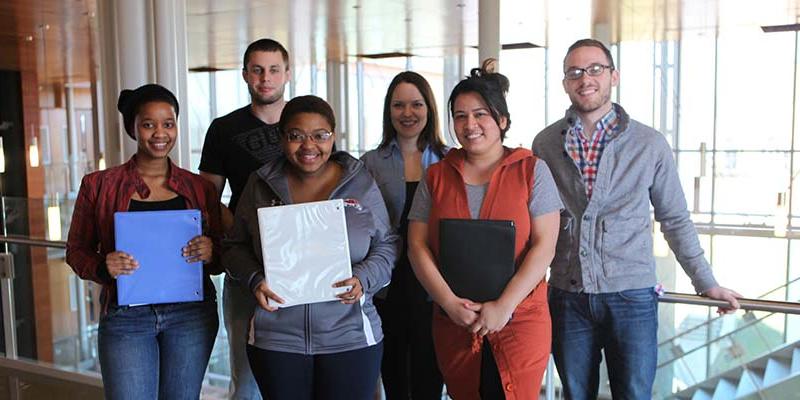 Internships
At Bryn Athyn, we believe so strongly in the value of internships that we encourage our students to secure intern positions as early as the spring of freshman year.
Not surprisingly, many of our students are able to fit in more than one internship experience during their four years. And those experiences add value to your college degree and depth and understanding to your skills and knowledge, which will pay off down the road when you're competing for a job or admission to a graduate program.
An internship experience can help you focus your area of study more specifically, strengthen your passion about a career, or maybe change the course of your academic program and lead you down a new path, personally and professionally. Selecting an internship can begin as soon as you get on campus. Identify your interests, and then meet with Laura Nash, Director of Experiential Education. She will work with you to explore the possibilities and meet the qualifications, so you can intern as early as the spring of your first year at Bryn Athyn.
Typically, 150 hours earns 3 credits, although internships can be arranged for less time and fewer credits.
Student Internship Experiences
Social Media Assistant | Marketing Department
Educational Assistant & Museum Guide | Glencairn Museum
Athletic Assistant | Athletic Department
Director's Assistant | Mitchell Performing Arts Center
Horticultural Assistant | Bryn Athyn College Garden
Hospitality Services Assistant | Cairnwood Estate
Newspaper Editor | The Bryn Athyn Beacon
Archival Research Assistant | Swedenborg Library Archives
Medical Intern | Abington, PA
Magazine Writer's Assistant | New York City
Market Researcher | Princeton, New Jersey
Nursing Home | Hatboro, PA
Artifact Researcher | Durban, South Africa
Engineer's Assistant | Tucson, Arizona
Refugee Camp Director's Assistant | Comer, Georgia
Teacher's Assistant | Accra, Ghana
Chloé Kund, Cairnwood Estate Intern
"I'm grateful for the opportunity to intern at the esteemed Cairnwood Estate. I also feel blessed that this internship has turned into a job. As a recent college graduate, I feel very thankful to have a job, but it's not just a job, it's another place I get to learn and grow from." – Chloé Kund, Class of 2014
Jackie Shihadeh, Theater Marketing Intern
"This year I was the Theater Marketing Intern for "The Phantom Tollbooth." Rather than just sitting in an office doing busy work, I did hands-on work in my chosen field. I got to work closely with the producer of the play, and built a great working relationship with her. Even though I was the only marketing intern, I still was able to experience teamwork by collaborating with the other theater interns. I learned so much about not just marketing, but how theater productions work and working in a team. At the end of the internship, I worked with the two other interns to plan a cast and crew party, which was a fun way to celebrate all of our hard work." – Jackie Shihadeh, Class of 2017
Internship Resources
Internship Forms
The Value Of Interning
Internships are more than just a chance to see the world. Spending a term as an intern will give you real work experience. You'll work under professionals in the field—whether your internship is on- or off-campus. It isn't just about earning credit for something outside the classroom; it's about putting your studies into action.