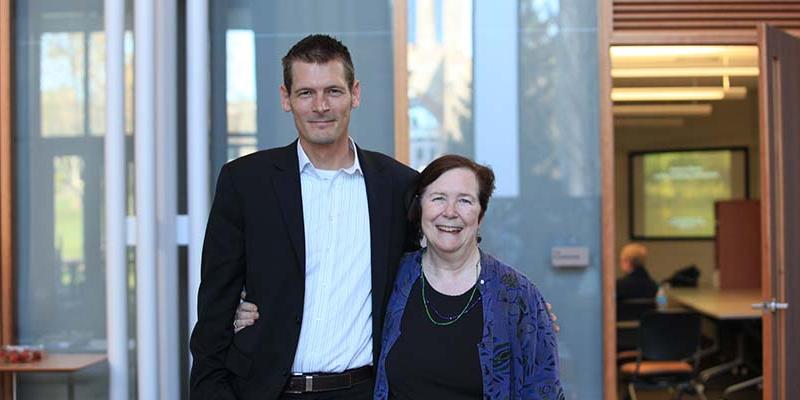 Master of Arts in Religious Studies
The Master of Arts in Religious Studies (MARS) degree program is offered to individuals who have a BA or BS degree. It is designed to enable students to study New Church teachings at a deeper level and in closer detail. The program emphasizes theology, provides opportunities to explore some secular areas, and allows students to develop an integrative thesis. The program encourages students to relate the truths of doctrine to various academic, professional, and personal areas.
The full course of study may be taken for the degree, or a limited number of courses selected by personal interest may be taken. Interested students should direct questions to Rev. Dr. Thane Glenn.
Admission
All degree seeking and non-degree seeking students must apply for admission using the Registration Form. Auditors must obtain permission of the relevant instructor and program director in order to attend courses, but the Application for Admission Form is not required.
Requirements for Degree Applicants
Bachelor's degree from an accredited institution or the equivalent
Transcript of all courses and grades from each college or university attended
Undergraduate GPA of at least 2.5 on a scale of 4. If the GPA is below 2.5, a Graduate Record Exam score may be accepted instead.
Three letters of recommendation. Recommendations should not be from close family members.
Statement of intent and purpose
Completed Registration Form
Requirements for Non-Degree Applicants
Bachelor's degree from an accredited institution or the equivalent
Completed Summer Program application
Completed Registration Form
Course Requirements
Theology 514: Doctrine of the Lord
Theology 518: Doctrine of the Word
Religious Studies 510: Methodological Approaches to Religious Studies
Students must take five additional courses. Two of these MA level courses may be taken elsewhere (whether before entering the program or while in the program).
Students must write a thesis equivalent to two courses.
Students must satisfactorily complete all requirements.
Accreditation
Bryn Athyn College is accredited by the Middle States Commission of Higher Education. Credits earned at Bryn Athyn College are generally transferable to other colleges and universities.
Financial Aid
Financial Aid may be available to those who qualify. Please contact the Financial Aid Office at finaid@brynathyn.edu or by phone 267-502-6000.
Academic Policies & Regulations
Students are responsible for familiarizing themselves with all academic policies. All policies listed in the Undergraduate Student Handbook apply with the following exceptions:
Drop Policy
It is the student's responsibility to drop a course if s/he is unable to attend due to changes in the class schedule or personal obligations.
Non-attendance does NOT relieve a student of the obligation to pay tuition and fees. In addition to paying full tuition and fees, an academic hold will be placed on the student's account to prevent any further registration transactions.
Students who do not formally drop a class in which they are officially enrolled will receive an "F" grade for the course(s) and be liable for all tuition and fees incurred during the summer.
Students must formally drop a course with the registrar.
A summer course may be dropped on the 5th day without it showing up on the transcript.
Course Load Limits
Students may not enroll in or attend more than two courses at any time during the summer session. Taking only one course is highly recommended.
Course Cancelations
If a course is canceled, the Registrar will send a notification to the email address listed on your registration form. If a course is canceled and you have made a payment, the payment will be refunded.
Course and Grade-Related Policies
Attendance
During summer session each day is equivalent to one week of classes during a term in the regular academic calendar. Therefore, a student cannot be absent from more than one day of classes during the summer session.
Credits
If a course is canceled, the Registrar will send a notification to the email address listed on your registration form. If a course is canceled and you have made a payment, the payment will be refunded.
Expectations of Individual Study Time
Students should expect to spend as much as two hours of study outside of class for every hour in the classroom. They will have completed 22 hours of work beyond hours spent in class by the 25th of June; for the project due by August 10th, a minimum of 54 additional hours is required, or nine hours per week for six weeks.
Incomplete Grade Policy
For all graduate-level courses, an interim grade of In Progress "IP" may be assigned if the student has not completed all requirements for the course. The "IP" may be changed to a letter grade if the student completes the coursework within one calendar year from enrolling in the course. It is the student's responsibility to be in contact with the professor regarding the outstanding coursework to be completed. If the coursework is not completed by May 31st of the following year, the "IP" becomes a grade of "WP". If the student then wishes to get credit for the course the student must re-register, pay tuition, retake the course and complete all assignments in order to get credit for the course.
Qualitative Standard
Students must maintain a cumulative GPA of 2.7 to be in good standing in the MARS program and to be eligible for continued enrollment.
Academic Deficiency, Probation, and Suspension
Degree seeking students who fall below a 2.7 GPA will be notified that they are on probation and, if after enrollment in the next summer session the GPA does not reach 2.7 or higher, the student will not be permitted to continue in the program. They will be suspended. Non-degree seeking students are permitted to be awarded one C or grade of 2.0; if they receive another C, they will not be permitted to take additional courses in the program.
Advising
Degree seeking students are assigned an advisor upon acceptance. With the student the academic advisor works out an overall program and begins the registration process. Advisors are willing to meet with students at any point in their program. Responsibility to set up meetings rests with the student. An initial meeting should be arranged as soon as possible after the student has been accepted into the program. Non-degree seeking students are not assigned an advisor, but they are welcome to seek advice from their instructor or the summer session academic staff.
Distance Learning
Distance Learning options may be available on a limited basis under special circumstances.
Transcripts
Grades are available approximately three weeks after the final paper has been turned in to the instructor. The Registrar will send out transcripts with grades to students. Official transcripts may be requested from the Registrar and fees will mirror those found in the student undergraduate handbook.
Refund Policy
Students who drop courses in a timely manner may be entitled to a full or partial refund of paid tuition. Students may be eligible for a refund if a credit balance is reflected on their student account. The refund process begins during the 2nd week of the summer session.
Financial Rights and Responsibility
Students assume responsibility for all costs incurred as a result of enrollment at Bryn Athyn College in the MARS program. It is the student's responsibility to be aware of their account balance and financial aid information, and to maintain current valid address information at all times to ensure receipt of all correspondence in a timely manner. The tuition status of a graduate student is determined by the date the course is dropped or the date on which the student withdraws from the MARS program.
Students who drop courses or withdraw from the MARS program are eligible for a refund of tuition charges according to the College's refund policies. The effective date used to determine any refund of tuition is the date on which notification of withdrawal is received by the Office of the Registrar, not the last date of attendance by the student.
Student Conduct and Student Life Policies
All the students in the MARS graduate program are twenty-one or older. They should abide by any policies in the Undergraduate Student Handbook that apply regardless of age.
New Church Resources List
For those studying or interested, here is a robust
list of resources
from the Old and New Testaments, Swedenborg's theological and various published works, and other New Church research materials.