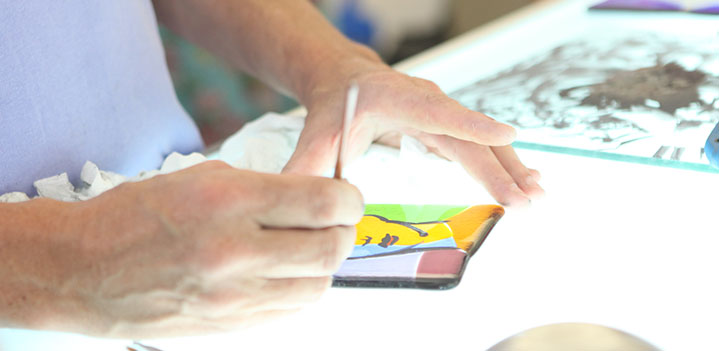 Building Arts Program
The built environment has a profound impact on how humans interact with the natural world as well as each other. By designing and constructing structures and elements which are aesthetically pleasing and culturally significant, buildings can impact our perception of the world in profound ways. As a Building Arts major, you will dedicate your time to engaging with various aspects of traditional and modern building practices. These include drawing and design, as well as practical engagement with multiple building mediums. Students will exit this program with a greater understanding of the role buildings have historically played within society as well as the processes and procedures of designing and building exceptional architectural elements.
Program Strengths
As the only Bachelor of Arts in Building Arts in the region, Bryn Athyn College gives students a unique opportunity to focus their creative energies within their chosen field of study. By learning from the department's experienced instructors, all of which have developed international reputations for their work, students have the opportunity to develop their skills under the guidance of world renowned experts in their field. Additionally the assemblages of buildings and collections inside the Bryn Athyn Historic District, including Bryn Athyn Cathedral, Glencairn Museum and Cairnwood, allows the students unprecedented access to one of the most prominent architectural collection in the United States from which to study and gain inspiration.
Apart from the Core Building Arts Curriculum, students will specialize in one of the following areas:
Blacksmithing
The Metals specialization allows the students to pursue their interest in historical and modern applications of forged and decorative metal wok. Areas of focus include:
Traditional Joinery Design and Construction
Metal Design
Welding and Machine Work
Large Scale Design and Production
Stained Glass
The Glass specialization allow students to pursue their interest in the historical and modern application of architectural glass, Areas of focus include:
Glass Painting
Glass Design and Production
Stained Glass History and Survey
Glass Dynamics
Requirements
Before applying to the program students should take the following courses:
FA 101 or 102: Art History I -or- II
FA 141: Building Arts Foundation I
FA 122 or 128: Introduction to Metal Forging -or- Introduction to stained glass
Forms