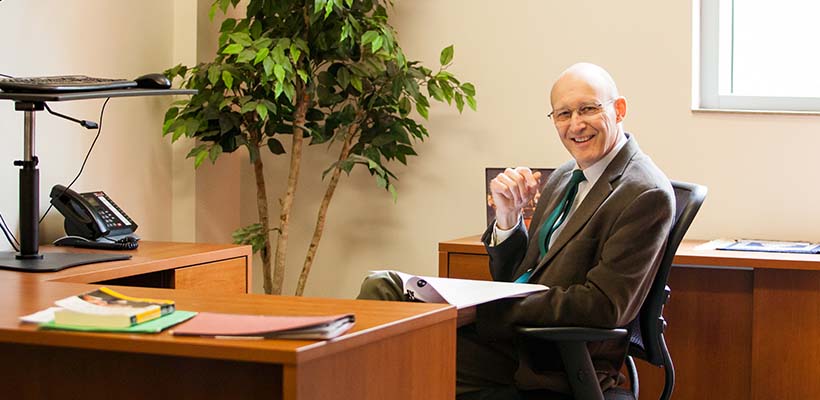 Employment Opportunities
Bryn Athyn College is an Equal Opportunity Employer. Our goal is to attract and retain talented and dedicated employees by providing a friendly and collaborative work environment that offers meaningful career opportunities, competitive compensation, an extensive benefits package, and various professional and personal development opportunities.
Faculty Employment Opportunities
The Dean of Faculty is 10-month (with some tasks in the summer) administrative, faculty-ranked position providing vision, oversight, and leadership for Faculty. It carries the equivalent of 4.0 work units. The position supports faculty development in light of New Church principles.
The Dean of Faculty serves on the following committees
President's Cabinet
Faculty Handbook (chair)
Policy and Benefits Committee
President's Diversity, Equity and Inclusion Council
Specific Responsibilities & Essential Functions:
The Dean of Faculty is responsible for providing leadership to the faculty and keeping up with best practices in faculty mentoring, development, and evaluation.
Collaborate with the Faculty Council Chair in matters pertaining to the faculty as a whole.
Oversee faculty selection, orientation, reviews (including annual evaluations 2.5.1. and contract evaluations 2.5.2), and promotion processes that support high quality academic offerings.
Prepare and issue employment contracts for all faculty positions
Oversee faculty workloads.
Collaborate with CAO and president on any terminations or dismissals for cause.
Recommend sabbaticals and leaves of absence (for president's approval).
Co-chair (with CAO) meetings of the academic department chairs.
Work with CAO and Chair the Faculty Handbook Committee to keep the Faculty Handbook current and effective.
Approve professional development and faculty development requests and oversee professional development funds, with support from the director of faculty development.
Appoint the director of faculty development, in consultation with the president.
Oversee the Research Committee and Tenure and Promotion Committee.
Areas of Responsibility & Reporting:
The Dean of Faculty reports to the college president and is responsible for managing the faculty and leading the faculty as a whole. Positions or committees reporting directly to the Dean of Faculty are Faculty Development, Tenure and Promotion, and Research Committee. This post allows the dean to teach up to 6 courses per year.
Criteria & Qualifications
Doctorate or terminal degree in a liberal arts or related field. A record of teaching excellence, service, and scholarship commensurate with that of a tenured professor required. Significant experience at the level of department chair, or above. Demonstrated ability to work productively with faculty to strengthen the institution.
Interested candidates are invited to submit a letter of interest, a CV, and contact information for three professional references to college.jobs@brynathyn.edu by February 26, 2021.
The Language and Literature department at Bryn Athyn College invites applications for the position of Instructor or Assistant Professor of English and Communications to begin July 1, 2021. This position is classified as percentage-time; the individual hired will carry a course load of 7 classes over an academic year that includes 3 terms.
We seek candidates with the following: 1) a passion for undergraduate liberal arts education, 2) experience with virtual learning platforms and pedagogies, 3) knowledge of a range of literary genres and time periods, 4) the ability to engage Generation Z in the educational environment, 5) commitment to communication skills (oral and written; face-to-face and online), and 6) enthusiasm for Bryn Athyn's New Church mission, along with concrete ideas for how to enact the mission in the college classroom. A Masters in English, communications, or a related field is required; a PhD is preferred.
Minorities are encouraged to apply. Candidates are invited to email a letter of application addressing the items above, CV, a list of three professional references, and copies of graduate transcripts when they are available, to Ms. Renee L. Rosenfeld, at college.jobs@brynathyn.edu. The application deadline is February 8, 2021. For more information about Bryn Athyn College and its mission, see www.brynathyn.edu.
Staff Employment Opportunities
Online Onboarding:
New hires complete employment forms via online onboarding through our payroll system portal, with the exception of the I-9 form. New hires are required to submit a completed I-9 form and show original ID to the Director of Human Resources as soon as possible after their start date. Acceptable ID is listed on p 3 of the form. I-9 Form
Our employees are a vital part of the College community, contributing to the growth and success of the College. Thank you for your interest in Bryn Athyn College. If you have any questions, please contact us at 267-502-6038 or email college.jobs@brynathyn.edu.