Upcoming Events
Call for Papers
Conference Topic: Thought from the Understanding: Swedenborg's Library and the Shape of a Mind
Location: Bryn Athyn, Pennsylvania (optional remote attendance)
Dates: October 26-27, 2024
This two-day interdisciplinary conference invites scholars to explore Emanuel Swedenborg's personal library for points of connection between the works he held in his library and the ideas presented in his own philosophical and theological works. Long before he embarked on the spiritual journey which led to the revolutionary works of theology he published, Swedenborg was a voracious learner, and his many fields of interest are reflected in his wide-ranging library, which included works of philosophy, anatomy, history, physics, chemistry, metallurgy, engineering, and classical learning, as well as, of course, Biblical and religious thought.
The Institute for Swedenborg Studies is seeking papers that investigate the ways in which a text or set of texts in Swedenborg's library may have influenced his understanding or helped to shape the thought set forth in his theological and philosophical works. In some cases, Swedenborg may have built on ideas he encountered in other works; in other cases, he may have reacted against concepts in those texts.
Scholars may wish to make particular use of two resources made available by the Institute. The first is a detailed list of the great majority of the works known to have existed in Swedenborg's library, catalogued according to Library of Congress classifications, along with links to copies of these works held in the Swedenborg Library, Bryn Athyn College, Bryn Athyn, Pennsylvania and, wherever possible, links to copies available on Google Books. The second is an index, with notes, of the authors and other figures Swedenborg references in his pre-theological works. In addition, we recommend to scholarly attention the appendix on Swedenborg's library in Lars Bergquist's Swedenborg's Secret.
Proposals of 150-350 words should be submitted to the Institute, InstituteforSwedenborgStudies@brynathyn.edu. Please include identifying information (name, email address, and institutional affiliation, if any). Papers should last 15-20 minutes, and will be followed by a 10 minute period for questions and discussion. Participants may attend the conference in person or remotely.
Submission deadline: January 8, 2024
Past Events
Featuring Rev. Christopher Barber
March 29, 7:30 p.m.
Doering Center at Bryn Athyn College
2915 Campus Drive, Bryn Athyn, PA
The Institute for Swedenborg Studies at Bryn Athyn College is pleased to invite you to hear Chris Barber speak on his research into the covert society of Swedish pioneers who had to move in secrecy to access and spread what they believed to be a new revelation for a New Church.
Location: Bryn Athyn, Pennsylvania (optional remote attendance)
Dates: April 23-24, 2022
Schedule: View schedule
Keynote: Jim Lawrence
Registration: Closed (tickets for keynote address available at the door starting at 7:15pm, $10)
This two-day interdisciplinary seminar invites scholars to consider the many prismatic intersections between Emanuel Swedenborg's paradigm of spirituality and spiritual movements, thought, and applications. Swedenborg's contribution to spirituality has captured the attention of many important thinkers since his writings first revealed his contact with the spirit world in the late eighteenth century. The concept of spirituality he laid out, at once mystical and profoundly pragmatic, continues to have rippling implications in many fields. Papers will address a variety of topics, including the following:
Relationships between spirituality and religion
Relationships between spirituality and religious traditions
Mystic, devotional, or spiritual practices
Interpretive models and practices
Relationships between psychological models and the spiritual mind
Swedenborg's metaphysics and physics
Seminar participants may attend in person or remotely.
Keynote
Those who wish to attend the keynote portion only may do so in person or virtually. Tickets available at the door starting at 7:15 p.m.

Jim Lawrence, A Daily Spiritual Practice Based on Swedenborg's Rules of Life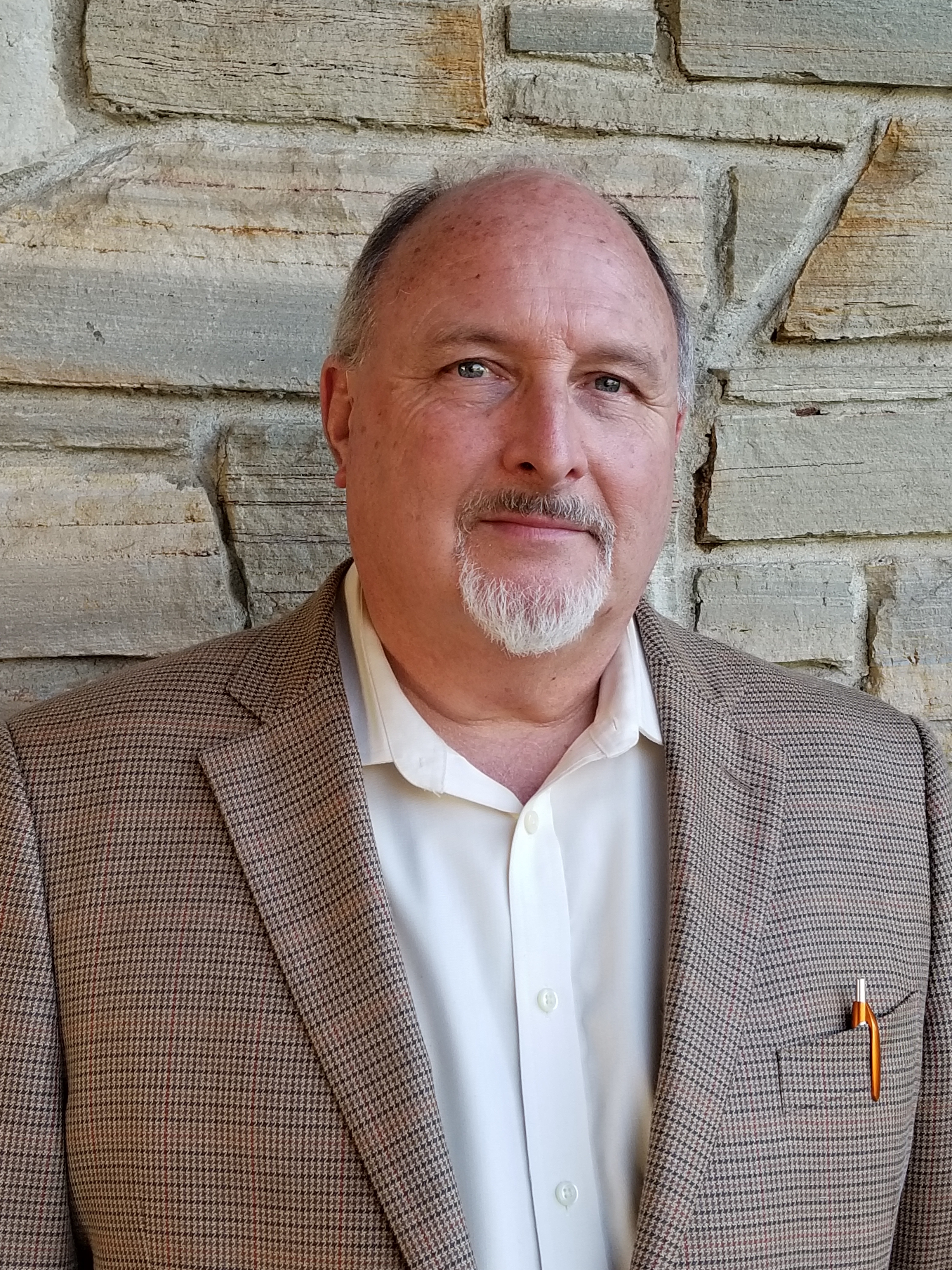 Rev. Dr. Jim Lawrence grew up an every-Sunday kid in a Disciples of Christ church in Houston. During college he majored in developmental economics for impoverished countries due to an overwhelming concern for suffering in the world. It was also during these young adult years that he lost his faith due precisely to the world's massive misery index. He concluded the universe is heartless and pointless. That perspective changed, however, through a spiritual renewal that opened up a new sense for meaning and purpose. Becoming immersed in the post-Reformation scientist and theologian Emanuel Swedenborg provided one impetus toward interpreting life as meaningful again. His vision shifted toward spiritual renewal as the world's greatest need, so after rapidly finishing his degree in economics at the University of Texas, he dove into studies at a Disciples of Christ seminary. The "Swedenborg bug," however, would not go away, and so he committed what many of his colleagues felt was professional suicide by jumping ship to the Swedenborgian seminary in Boston. After graduation and ordination, he found tremendous satisfaction working during the next 17 years in the congregational leadership in three church ministries spanning small town, suburban, and urban settings. During these years he also earned the Doctor of Ministry degree focusing on the performative practice of writing as a communications ministry strategy. To date he has been author, editor, contributor, or publisher of more than 150 bound works and author of dozens of ministry and spirituality articles for the lay public. In 2001 he was called to return to the academy, complete a Ph.D. degree in Christian Spirituality, and become Dean of Convention's theological school, for which he led the effort to relocate to Pacific School of Religion in Berkeley as the Swedenborgian House of Studies, which in 2015 became a Center of Distinction at the Graduate Theological Union as the Center for Swedenborgian Studies, where he is still Dean. He has remained on the faculty at Pacific School of Religion directing the Doctor of Ministry degree program. He is currently President-Elect of the Swedenborgian Church of North America.
Schedule
Saturday, April 23, 2021
9:00 am

Session 1
Models of Spirituality

Spirituality, Religion, and Swedenborg | Dan Synnestvedt
'One God' and the 'Love of God': Swedenborg's influence on Balzac | Saori Osuga
A Swedenborgian Theology of Social Justice | Shada Sullivan

10:30
Break
11:00
Session 2
Realms of Spirituality and Science

How is quantum physics really connected to consciousness? | Ian Thompson
Swedenborg's Prism and Goethe's Theory of Color | Angela Rose
Swedenborg, Space Humanities, and Exoplanets | Vincent Roy-Di Piazza

12:30pm
Lunch Break
1:30
Session 3
Concepts of Psychology and Spirituality

Learning to Hear Again: James Fowler, Paul Ricoeur, Emanuel Swedenborg, and the Stages of Faith | Ray Silverman
Metaphor and Spiritual Meaning | Stephen D. Cole

3:00
Optional Activities*
5:00
Break
6:00
Catered Dinner*
7:30-10:00
Keynote and Reception

Sunday, April 24, 2021

9:00 am - 10:30
Session 4
Swedenborg's Influence on Thought Movements

William Blake and Swedenborg: A Poet-Painter's Delightful Response to Passages from Heaven and Hell | Martha Gyllenhaal
Structuring Samuel Wilderspin's Infant School Pedagogy 1823-1825: The Dynamics of Culture and Conformity | Sarah Odhner
Math and Metaphysics in an Age of War and Deconstruction: Introducing Prof. Dr. C. H. van Os | Elly Mulder

*Available for in-person attendees only
Questions? Please contact Institute director Thane Glenn, thane.glenn@brynathyn.edu, 267.502.4844