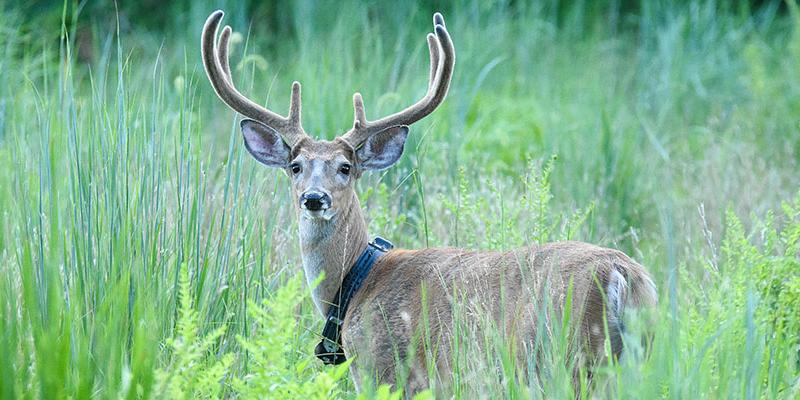 Bryn Athyn's Deer Study
The Deer Study is a collaborative research and education project between Bryn Athyn College and Pennypack Ecological Restoration Trust (PERT) that began in 2006. The main focus is to track the movements of white-tailed deer (Odocoileus virginianus) fitted with high tech GPS/GSM radio collars in the suburban oasis of the Pennypack Watershed, which is surrounded by residential and industrial development. The study fuses together the fields of biology, ecology, and environmental science together with advances in geospatial science. The purpose of the Deer Study is to learn more about the ecology, behavior and movements of suburban white-tailed deer in time and space. We are thus interested in investigating when suburban white-tailed deer move, where they move, and why they move.
The study, led by principal investigator Dr. Eugene Potapov, involves faculty and students from Bryn Athyn College and personnel from PERT. It provides an excellent opportunity for students to get first hand experience with biological research working side-by-side with faculty. Activities range from trapping the deer and fitting them with the collars, various types of fieldwork, generating interesting and relevant scientific questions, analyzing data, and presenting the results at scientific conferences and in peer-reviewed scientific journals.
The study has developed a fundamentally new approach to understand the deer's usage of territory implementing a Brownian bridge approach. This allows us to create a perceptual landscape of the deer, which is instrumental in building an understanding of the ecological constraints of habitat utilization in suburbia. The new method of visualization of deer movement with the help of a 3D space-time cube allows us to understand interactions of several individual deer. The latter technology was also instrumental to understand the impact of wind direction on the deer's habitat choice.
The Deer Study has investigated a range of scientific questions that relate to the suburban white-tailed deer that inhabit our study area. Examples include: how human presence and the ecological constraints of suburbia affects the habitat choice of deer, how deer respond to land management practices, how deer are affected by moonlight and weather conditions such as wind, snow and humidity, when and where deer cross roads and how deer road crossings are related to deer-vehicle collisions and human presence in the study area, how the different seasons affect the habitat choice and home ranges of deer, and how male and female deer differ in their habitat usage. The study has also developed and tested new methods for estimating deer density using automated infrared-triggered trail cameras, and new methods for investigation of the impact of deer on vegetation.
The findings of the Deer Study provide knowledge that can be used to manage suburban white-tailed deer as well as lowering the risk of deer-vehicle collisions. The accumulated data represent a unique growing database of animal movement, which is used for both scientific and academic purposes. Thus, the Deer Study combines faculty research with education where students learn to appreciate nature, and the process of scientific research.
We are currently working on a project that compares the movements and territory usage of deer in response to human activity in PERT (which is monitored by means of people counters). Another in progress study focuses on investigating how vegetation affects the visibility of deer and whether deer are limited to hideout places so that they are less visible to humans. We are also investigating how deer are affected by ambient noise levels in the study area, and continuing our previous work on the relationship between deer road crossings and deer-vehicle collisions. In addition, a mail-to-map function developed by Dr. Potapov, which shows data from the tracking collars in real time around the clock on Google maps, was a first and has attracted world-wide attention.
To date, we have monitored and analyzed high resolution trajectories of the movements of 83 deer, which has resulted in the presentation of 32 posters and 7 talks at 21 regional and national scientific conferences. In addition to these presentations, we have published 4 articles in peer-reviewed scientific journals. Students take an active part in this process of presenting our scientific results. More than 30 students have participated in fieldwork, and 21 students have helped to author the posters and talks we have presented at scientific conferences. Students have also presented posters and given talks at scientific conferences and have been credited as authors on articles in peer-reviewed scientific journals. In addition, six students have based their Bryn Athyn College senior capstone projects on the deer study.
The deer study recently presented two posters at the annual meeting of the Mid-Atlantic Chapter of the Ecological Society of America at Bowie State University, Bowie, Maryland.
Outcomes
Potapov E., A. Bedford, F. Bryntesson, S. Cooper, B. Nyholm and D. Robertson. 2014. White-tailed deer (Odocoileus virginianus) suburban habitat use along disturbance gradients. American Midland Naturalist, 171: 128-138.
Potapov, E. and V. Hronusov. 2012. Extreme dynamic mapping: Animals map themselves on 5 the "Cloud". Whitmeyer, S.J., Bailey, J.E., De Paor, D.G., and Ornduff, T., eds., Google Earth 6 and Virtual Visualizations in Geoscience Education and Research: Geological Society of America Special Paper 492.
Potapov E., et al. 2011. Impact of snow cover on movements and habitat choice by suburban White-tailed deer (Odocoileus viginianus). Bulletin of the New Jersey Academy of Science 56: 5-8.
Brown B., et al. 2011. Moonlight and Suburban White-tailed deer movements. Bulletin of the New Jersey Academy of Science 56: 1-3.
2015 3D Space-Time Cube Poster (pdf) – Home range structure in a space-time cube: an example of white-tailed deer.
Related Links