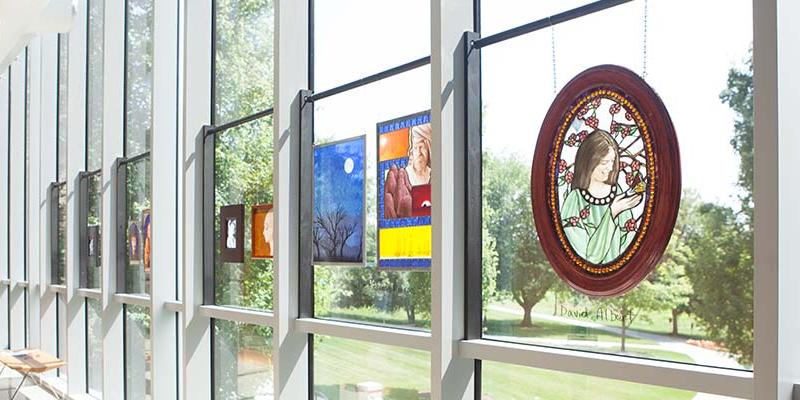 Fine Arts (ID) Program
An interdisciplinary degree in fine arts will change the way you see the world. It will help you see more clearly and assess the world more acutely. Art is a technical field—so at Bryn Athyn you'll study painting, jewelry, blacksmithing, glass painting, stone carving, ceramics, and photography, honing your artistic abilities. The Interdisciplinary major presents a unique opportunity for students to combine studies of two liberal arts areas and to develop, in a structured way, the interrelations between these different fields of knowledge.
Program Strengths
At Bryn Athyn, art is in our history. Our campus includes the stunning Bryn Athyn Historic District. You'll explore the galleries and exhibitions at Glencairn Museum, study the original Beaux-arts architecture of Cairnwood Estate, and examine the incredible Gothic stonework, blacksmithing and stained glass at Bryn Athyn Cathedral. Whether you use them for research or inspiration, you'll have incredible resources just across the street.
Here, you'll study with working artists and active researchers. Your classes will be small. You'll take studio course, research seminars, and participate in critiques. So you won't simply create art, you'll hone your artistic eye and learn to express your thoughts clearly.
Fine Arts Interdisciplinary Major
This program can be combined with any of the following areas:
Business
Computer Science
Education
English
Philosophy
Psychology
Religion
Fine Arts Tracks
Fine Arts Interdisciplinary students can select between two tracks:
The Dance track encourages self-expression, cooperation, and the development of individual technique, while providing instruction in choreography and performance skills.
Choreography includes a number of styles of dance:
Modern
Contemporary jazz
Theater jazz
Hip hop
Ballet
Tap
The Studio Arts track allows students to explore visual aesthetics and artistic expression through a variety of mediums, including:
Ceramics
Stained glass
Metal work
Drawing and painting
Sculpture
Photography
Requirements
The capstone experience is an art project with a companion research paper. Before applying, students should have a grade of C- or better in:
Fine Arts 101: Aegean to Early Christian
Fine Arts 102: Renaissance and Baroque Art
One of the following:

Fine Arts 120: Metalwork
Fine Arts 130: Glass Painting
Fine Arts 140: Drawing and Painting
Forms
Our Faculty