Bryn Athyn's beloved mascot, Leo the lion, recently received a make-over that he revealed on April 29th. The new mascot costume—created by Promo Bears—preserves the ferocity and friendliness of Bryn Athyn's symbolic lion. With the help of the Pride Dance Team, Leo celebrated his new look during a barbeque at the Brickman Dining Hall during the halftime of the women's lacrosse game with students, faculty, staff, alumni and local community members. The previous Leo mascot costume was handcrafted more than ten years ago by former professor Soni Werner, Ph.D., who took matters into her own hands because she wanted to see the lion symbol come to life on campus.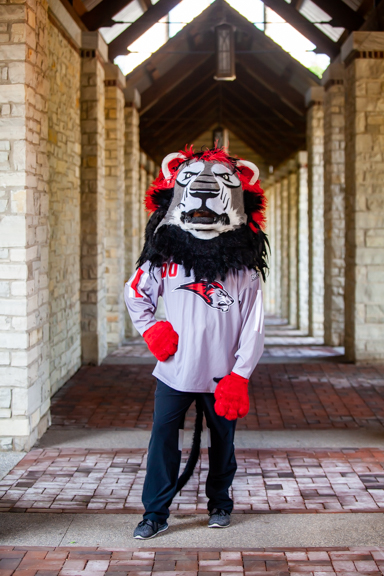 Inspired by the Mets mascot, Soni first had to figure out how to create a headpiece that was light enough to wear, solid enough to last, and able to let the wearer see without being noticeable. Using an ice hockey helmet, she and her husband Neil got to work using PVC tubes, nuts, and bolts to build a base for the head around the helmet. She worked with a material called Fosshape, a heat-sensitive felt-like material, to mold the head, which required a lot of trial and error to get it just right. Then she got to have fun creating Leo's iconic exterior look, shopping in the same New York City stores that many Broadway costumers and fashion designers frequent. "I surveyed about 20 athletes about whether the lion should show teeth and be ferocious looking or no visible teeth," she recalls. "We decided not to frighten the kids, so no visible scary teeth!" Armed with felt, fur, paint, rubber cement, hot glue, and lots and lots of feathers, Soni brought a two-dimensional logo to life.
Leo has spent the last decade dancing with students, high-fiving visitors, flying kites with children, cheering on the athletic teams, and bolstering the spirits of the Bryn Athyn community. While we are excited for a new chapter of Leo's role on campus, we are also sad to see the well-loved original character retire. There are plans to display the former mask in the College Center so the original Leo's spirit can live on.
Soni is glad she was able to add to Bryn Athyn pride, "I was hoping the mascot would be loved, but that is just the magic one hopes for after making such a fun costume!"