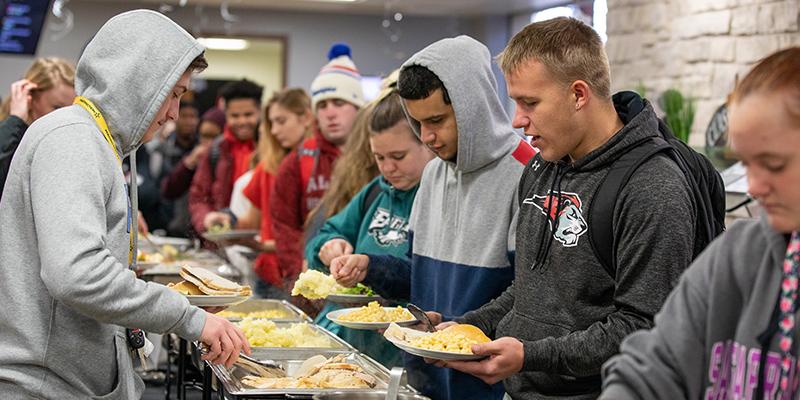 Campus Dining
Bryn Athyn College is proud to partner with SAGE Dining Services®. SAGE, established in 1990, is the leading food service provider for independent schools and colleges throughout North America. SAGE's unparalleled expertise in nutrition, sustainability, and culinary trends produces exceptional dining experiences that delight the senses, inspire minds, and foster community.
SAGE provides our school community with customized, delicious, dietitian-approved meals, cooked from scratch using fresh, locally sourced ingredients. Their talented chefs enhance mealtime with a wide array of options and flavors, including authentic Asian dishes, Latin American cuisine, and vegetarian and vegan fare. A monthly Educational Seasonings program explores food in cultural and historical contexts, and chefs often engage communities with exciting display cooking.
All SAGE Team Members have extensive training in food service protocols and food allergy awareness. Their open kitchen policy allows anyone to schedule a time to visit and ask questions about inventories and preparation methods. Please see a food service staff member or use our contact information below for assistance.
For more information about SAGE, please visit www.sagedining.com.
Staff Contact
John Starrett, Food Service Director
j.starrett@sagedining.com
Ayrton Hamilton, Assistant Food Service Director
ahamilton@sagedining.com