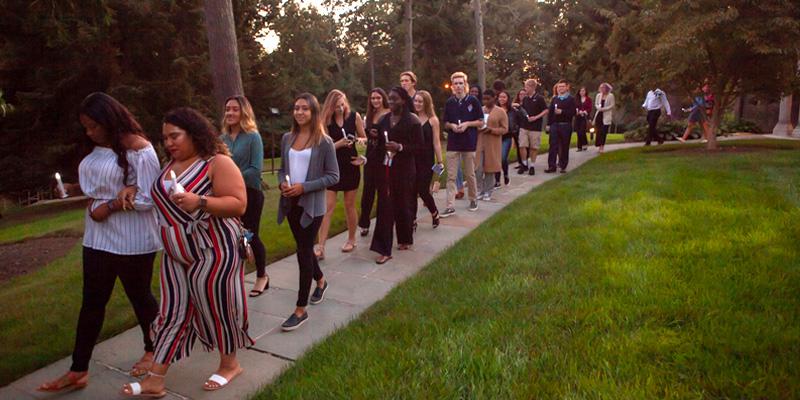 First Year Experience
Please refer to this page often, as updates will be added frequently.
Now that you're officially a Lion, you're probably feeling both excited and unfamiliar in your transition to College. Don't worry, the First Year Experience (FYE) team and Peer Advisor Leaders are here to help you become active members of the Bryn Athyn College Community.
Through a series of individual meetings, peer mentoring, academic workshops, and social programming, we aim to connect first-year students with the other students, build faculty - student relationships, and access the campus resources available at Bryn Athyn College. The First Year Experience does not just end at New Student Orientation, a team of faculty, staff, and Peer Advisor Leaders (PALs) are your resources towards a successful first year at the College.
First Year Checklists
The Checklists are used by members of the First Year Experience and Academic Advising teams to make sure that you have access to all the resources needed to be successful at the College.
Events
Check back often for an updated list of engagement opportunities as the team is building just for you! Here are some staple events that are part of the First Year Experience program.
New Student Orientation Part 1 (July 19, 2023 or August 5, 2023)
Mini-Golf in the Library (usually the first two weeks of the term)
Job, Club & Organization Fairs (second week of the term)
Career Day (October)
Faculty Passion Series (usually 1-2 per academic term)
Clifton Strengths Workshops
Frequently Asked First-Year Questions
Bryn Athyn College does not have a required First Year Seminar course. Instead, the First Year Experience Program was developed to offer a variety of intentional programs, services, and living learning communities in the first-year residence halls based on the variety of needs of our first-year students. Involvement in the First Year Experience Program is not required for students but highly recommended to help you succeed here at the College!
All new fall term first time students get assigned a Peer Advisor Leader (PALs), who are undergraduate students interning in the Academic Advising Office to help students successfully adjust to Bryn Athyn. Winter & Spring term admits work directly with their academic or faculty advisor to ensure a successful transition to BAC.
More information can be found on the Academic Advising page.
Many forms and information needed prior to coming to campus can be found on our
Admitted Students
page
Can't find what you need? Contact us!