Applying to Bryn Athyn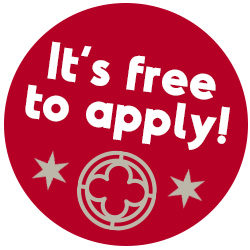 At Bryn Athyn College, we take a holistic approach to evaluating applications. Of course, we take grades and test scores into account, but our Admissions Committee also carefully considers essays, recommendations, and personal interviews when determining whether an applicant will be a good fit for Bryn Athyn College.
Candidates for admission to Bryn Athyn College should have solid academic backgrounds and should also be interested in contributing positively to the moral and spiritual life of the College. The Admissions Committee selects candidates who demonstrate that they are well suited for personal and academic success at Bryn Athyn College.
Undergraduate
Deadlines:
Bryn Athyn College operates on a trimester basis. Undergraduate applicants may apply to start in the Fall, Winter, or Spring term. We admit students on a rolling basis, with priority consideration for students who meet the following deadlines:
Early Action

(Fall 2023 Start)
November 15

Early action is non-binding, but assures you first consideration for the fall term. Students who file the FAFSA by November 1 and are admitted through Early Action will also be the first to receive their financial aid awards.



Regular Decision

– Students applying by the following deadlines are promised full consideration for admission, academic scholarships, and financial aid:
Spring 2023 (March 2023 start)
February 1, 2023
Fall 2023

February 15, 2023
Winter 2023-2024

November 1, 2023
Spring 2024

February 1, 2024
We will continue to review applications completed after these deadlines as space allows.
Required Documents for Admission
Required from all:
Application Essay
Official secondary school transcript(s)
One recommendation from a school counselor or teacher
Test Optional
We are test optional for Fall 2023 admission. No decision has been made yet about future terms. We will revisit update this policy for 2023-2024 and beyond
How do I apply for test-optional admission? When you complete either the Bryn Athyn application or the Common Application, you will be asked if you are applying test optional.
If you select that you would not like us to consider your test scores, we will review your application for admission and scholarship awards based on your high school transcript, essay, recommendation, and other supporting documents without consideration of your standardized (SAT/ACT) test scores.
Students accepted through test-optional admission are strongly encouraged to send their SAT or ACT scores (if available) after they have decided to enroll and deposited. These scores will not have an effect on your admission or your scholarship, but will assist us with your course placement.
We will review SAT or ACT scores from students who believe that their scores are a good measure of their academic ability. Simply answer "No" to the test-optional question on the application, and we will consider your test scores when making a decision.

If you do plan to send us test scores, please use our school code:

002338

.
Whether you apply test optional or not, Bryn Athyn College makes admission and scholarship decisions based on a comprehensive review of all credentials submitted in support of the application, with the greatest emphasis placed upon the high school academic record.

Transfer students only:
If you will have fewer than 30 credits completed prior to your anticipated enrollment at Bryn Athyn College, you should submit a secondary school/high school transcript as well.
International students only:
In addition to the credentials described above, international applicants must submit TOEFL or IELTS scores
Minimum TOEFL score: 520 (paper), 190 (computer-based), 70 (internet-based) (international students only)
Minimum IELTS score: 6 (international students only)
Personal Interviews
A personal interview is not required, but it can be an excellent way for us—and you—to determine if Bryn Athyn College is a good fit for you and your goals. Best of all, it's a great way for you to get acquainted with your admissions counselor. Interviews can be scheduled in conjunction with a campus tour, online or in person. or contact your admissions counselor directly at 267-502-6000 or admissions@brynathyn.edu.
How do we review first-year applications?
Bryn Athyn College seeks students who are inquisitive and engaged learners. Students offered admission to Bryn Athyn College will have demonstrated preparedness through strong performance in a college preparatory program. We consider the quality of academic course selection, trend in grade performance, and senior course selection. We look for a minimum of 16 academic units in high school, including the following:
English: 4 years (including Composition and Literature)
Mathematics: 3 years (including Algebra I & II and Geometry)
History/Social Science: 3 years
Natural Science: 3 years
Foreign Language: 2 years (in one language)
GPA's are recalculated to a standard 4.00 scale, with weighting of 0.5 point for each honors course and one point for each AP course completed.
In addition to having strong academic preparation, applicants should also demonstrate an interest in contributing to the life of the College and the betterment of the world. We are a religious College based on strong spiritual principles, and students with integrity, self-motivation, and strong personal values in addition to academic drive make excellent candidates for admission.
Notification: Once we have received all required credentials, we typically are able to render an admission and scholarship decision within one week.
Advanced Standing and Credit
Bryn Athyn College awards advanced standing and academic credit to students whose scores on Advanced Placement (AP) tests meet our criteria or who have participated in the International Baccalaureate Diploma (IB) Program. | Test Credit Details
College Courses Taken in High School: Bryn Athyn College will consider for credit courses completed at an accredited college provided that an official transcript is sent to us directly from the college originally awarding the credit. Courses most likely to transfer are those that academic in nature.