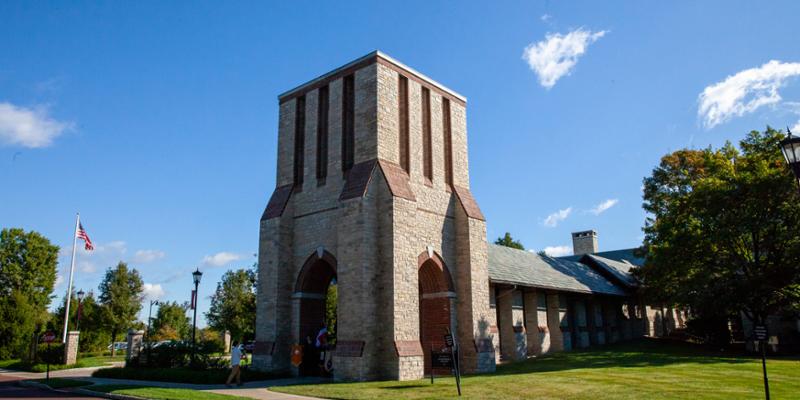 Parking on Campus
Everyone who parks on the Bryn Athyn College campus regularly is expected to register their vehicle(s) with the Department of Public Safety.
To register your vehicle(s) complete the Online Vehicle Registration Form (choose "Department of Public Safety" for the first drop down menu). A separate form is needed for each vehicle. You will then be issued a registration sticker that will identify your vehicle across campus. Students, faculty, staff, and visitors must park in appropriate marked areas and obey posted signs regarding specific parking spaces or lots.
For an outline of all of our parking policies and procedures, download our campus Parking Policy (pdf) and visit the Campus Map (pdf).
Bryn Athyn College Parking Plan
To accommodate Bryn Athyn College's continued growth, there important changes to parking requirements :
Bryn Athyn College Parking Plan
The are separate parking lots/areas designated for the following groups (see map below):

Resident students;

Commuter students (open lots);

Faculty/Staff;

Visitors
There will be designated spots for persons with particular needs (handicapped parking) or responsibilities (resident life directors, service vehicles, etc.)

The Pitcairn Hall, Junge Pavilion, Nelson Field, lots and the lot below Glencairn/Cairnwood across from the Cathedral will be open parking, available for commuters. There area spaces designated in the Pitcairn lot for faculty/ staff and visitors.

Every vehicle registered on campus will receive two reflective parking decals.

The first (2"x3") will resemble the decals used currently, but will not be color-coded. It will contain the school year ('18-19') and an assigned four-digit number.

The second, smaller decal (1"x3") will be color-coded for quick identification during parking enforcement. A different colored decal will be issued for 1.) employees, 2.) commuter students, and 3.) resident students. We expect that signage for each restricted lot will correspond with the sticker color of the eligible group.

If you have not registered your car, please do so with Campus Safety.

Additional details:

Lot restrictions will be enforced during the daytime hours of 7:00 AM – 4:00 PM Monday through Friday during the school year. For weekday evening hours during the school year (from 4:00 PM until 7:00 AM), weekends, holidays, and dates when school is not in session, lots will be open unless temporary restrictions are imposed by Security.

Faculty/staff of the Academy Secondary Schools, Bryn Athyn Church, General Church, Glencairn or Cairnwood may access College faculty/staff lots during restricted hours.

Handicapped permits can be obtained from Security for a temporary disability. If all handicapped spaces are occupied in proximity to a building, Security will not ticket a car with a valid handicapped permit that is otherwise parked in an unauthorized location.

Admissions and other event planners will be expected to provide visitors with a visitor permit to hang on their mirror to facilitate Security monitoring and enforcement of authorized visitors during restricted hours. Visitors may also obtain a permit from the receptionist at the Brickman Center front desk.

Additional restrictions may be imposed by Security at any time without notice. This includes the addition of reserved spaces to accommodate staff or visitor needs. Students will especially need to be alert for notices of event restrictions at the Cathedral.

Do not park in the visitor lot adjacent to the Brickman Center.

Ticketing has begun and will be fully enforced.