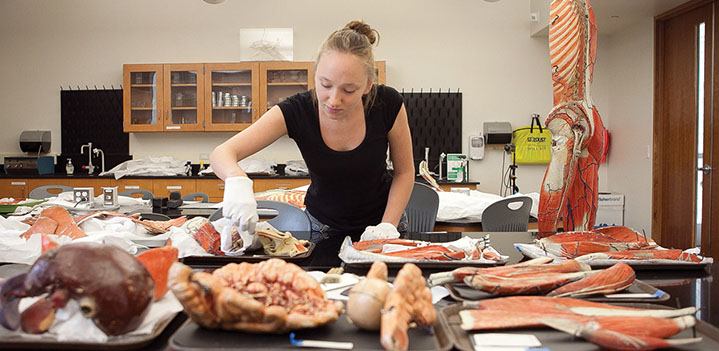 Biology Program
As a Biology major, you can explore a wide range of interest areas: ecology, genetics, botany, marine biology, human physiology, biochemistry, ornithology, and more. You'll discover that our professors are passionate about multiple areas and are active in their study and research.
Program Strengths
A major in Biology will give you a solid background for graduate school, medical school, or the work force. You have the option of pursuing either a bachelor of science or a bachelor of arts degree in Biology. Our program also incorporates rigorous coursework in the related disciplines of math, physics, chemistry, earth sciences, and computer sciences.
Hands-On Learning
At Bryn Athyn, not all learning takes place in our classrooms and science labs. Our Biology majors participate in hands-on education through off-campus trips with their classes, through our strong and varied internship program, and through collaborative research projects with faculty and fellow students.
Recent Biology Department activities include:
Touring the Infectious Disease Research Division at Thomas Jefferson University
Observing hawk migration at Hawk Mountain Sanctuary
Constructing and placing kestrel nest boxes around campus
Getting a behind-the-scenes tour of Philadelphia's Academy of Natural Sciences
Observing bald eagles and their nests at Holtwood Dam in Pennsylvania and Conowingo Dam in Maryland
Tracking deer movements in the Pennypack Ecological Restoration Trust
Biology Internships
The Biology program at Bryn Athyn College benefits from its strong and varied internship program—with opportunities on campus, in the Philadelphia area, and worldwide. Because Bryn Athyn is small, our faculty and our internship staff will help you tailor an internship experience to meet your specific interests.
Bryn Athyn students have recently pursued internships in science education at the Philadelphia Academy of Natural Sciences, in health administration at Abington Hospital, in technical writing at Popular Science magazine in New York City, and in organic farming in Costa Rica.
Environmental Sciences | Bryn Athyn maintains a partnership with the Pennypack Ecological Restoration Trust (PERT), which provides a wealth of opportunities for biological research and study. One ongoing collaborative project between Bryn Athyn College and PERT is our Deer Study.
Molecular Biology | Bryn Athyn students regularly undertake internships through Fox Chase Cancer Center and Thomas Jefferson University. Past projects have focused on virology, DNA silencing and reintegration, and the HIV virus. Biology majors who have interned in molecular biology have gone on to the PhD program at Thomas Jefferson University and to work for the Fox Chase Cancer Center.
Forms
Our Faculty