Dear Students, Faculty and Staff,
Over the past eighteen months, we have dealt with very difficult challenges operating under the threat of COVID-19. Most recently, we have been able to lift some of the restrictions that have been an impediment to conducting daily activities and return to some semblance of pre-pandemic life. We have all yearned to re-establish an active campus life with in-person classes and activities this fall.
Our highest priority continues to be the health and safety of our campus community. Locally, Montgomery County has reported a dramatic drop in COVID cases due to eligible adults receiving a COVID-19 vaccination. The Centers for Disease Control and Prevention ("CDC") has found that the three COVID-19 vaccines authorized and recommended in the United States are highly effective at preventing individuals from contracting COVID-19. However, a new threat is facing us with the rapid spread of COVID-19 variants such as the Delta variant which is more contagious and threatens the health particularly of the unvaccinated.
As such, Bryn Athyn College will require all students who will be on campus (including residents and commuters) and have not already certified their completion of the vaccination process to begin the process of getting vaccinated against COVID-19 prior to coming to campus in the fall. A COVID-19 vaccination will also be required of all faculty and employees. Bryn Athyn College currently has a required vaccination policy in place for other contagious diseases such as measles, mumps, and chicken pox. COVID-19 is being added to this list. Exceptions to this policy may be permitted under a formal waiver request but will be granted primarily where medical conditions are justified. However all resident students must be vaccinated without exception due to the unique nature of living in a group setting on campus. For more information, see the COVID-19 Vaccination Student FAQ.
Getting vaccinated will not only protect the individual but will protect our fellow students, faculty, and staff from coming into contact with infected COVID-19 individuals who may be unaware of their condition and show no outward symptoms. At Bryn Athyn College, central to our mission is to practice "charity and love toward the neighbor". We believe that preventing the spread of COVID-19 is an example of such practice. We thank you in advance for your cooperation and commitment to keeping our Bryn Athyn College community as safe as possible and to returning to a more normal fall term.
Please continue to check the Bryn Athyn College's COVID-19 webpage for updates to our plans for the fall. Bryn Athyn College will continue to follow the guidance and recommendations issued by Montgomery County, the State of Pennsylvania, and US Government agencies. Additional details about waivers and process will be released in the coming week. In the meantime, please make arrangements to begin the process to get vaccinated if you have not already done so.
I look forward to seeing each of you in the fall and wish you the very best during the remainder of the summer season.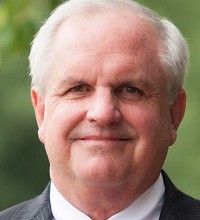 Brian Blair
President
Bryn Athyn College