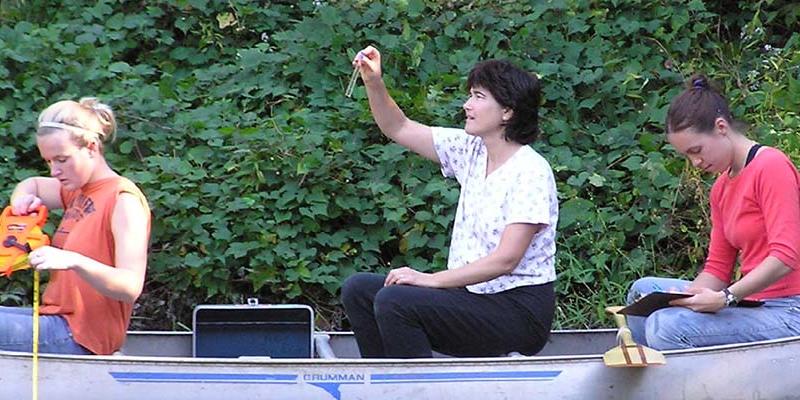 Sherri Rumer Cooper Research Fund
The Sherri Rumer Cooper Research Fund honors the vision and legacy of Dr. Sherri Cooper by supporting undergraduate science research at Bryn Athyn College. The fund focuses on three areas:
Support for undergraduate students engaged with science projects
Support for faculty members mentoring students or leading projects
Support for research expenses
Dr. Cooper joined the faculty at Bryn Athyn College in 1999, after establishing an impressive record of paleoecology research at the University of Maryland, Johns Hopkins, and Duke. Her publications on diatom assemblages in estuarine sediment cores brought her international attention and continue to influence scientific research in her field.
At Bryn Athyn College Dr. Cooper taught courses in biology, ecology, botany, limnology, and environmental science and mentored many students through their undergraduate research projects. She continued to conduct and publish research while at BAC and shared her passion for research and science unstintingly with her students, developing a powerful and unique research program for undergraduates. Among her many contributions, she chaired the College's research committee, established an annual student poster session for students in all majors, and guided the College's joint research program with the Pennypack Ecological Restoration Trust.
The Sherri Rumer Cooper Research Fund honors Dr. Cooper's passion for faculty-mentored undergraduate research and continues the work she began.
To make a donation honoring Sherri Cooper's work and legacy, please go to www.brynathyn.edu/give and select Sherri Rumer Cooper Research Fund in the "Designation" dropdown menu or contact Susan Wright at 267-502-4895 or advancement@anc-gc.org.
Rev. Dr. Jonathan Rose's memorial address for Dr. Sherri Cooperopens in a new window