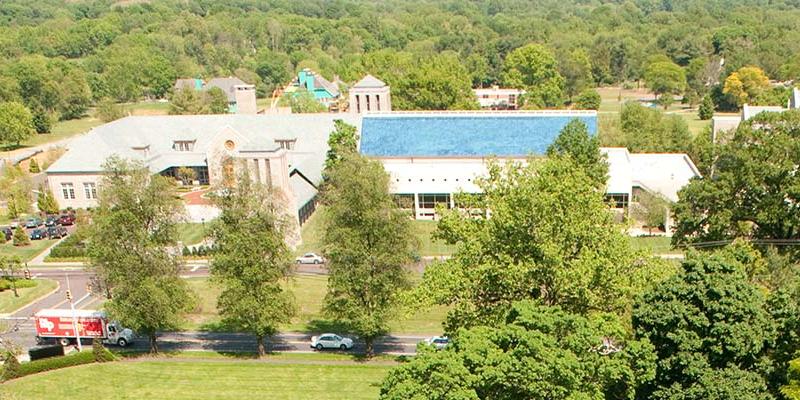 Interlibrary Loan
Interlibrary Loan is a free service that gives you the ability access full articles and borrow books that are not available in our library. It uses a system libraries created to lend and borrow from each other in order to better serve our patrons. For your convenience, all you need to do to activate your account is click the "set/reset password" link using your network ID (john.doe) as your user name. Please let us know if we can help you!
Login to Your Interlibrary Loan account
Interlibrary Loan FAQ
What is interlibrary loan (ILL)?
When libraries borrow books, articles, and other materials from other libraries.
Through ILL, you do not need to limit your research to the books, articles and electronic resources held by the Swedenborg Library. In fact, you have almost unlimited access to books and articles!
How do I set up an ILL account?
ILL accounts are now set up for you. To access your account, you will need to first set your password. Click on "set/reset your password." Your username is your Bryn Athyn College network ID. Once you have received the email to re-set your password and have created a new password, click on the above link again, and you are ready to begin using ILL.
Once you have set up your password, go to the sign in page. From there, click on "create request." Choose if you are requesting an article, a book, or something else, and include as much information as you can. Fields with an * are required, but the more fields you complete, the faster and more accurately your request will be filled.
You will receive an email or text when your items have arrived. Books will be held at the front desk of the library for seven days. Items not picked up during this time will be returned to the lending library and will not be reordered within the same term.
Can I take the ILL books out of the library?
Most items can be taken out of the library. Occasionally, a lending library may request that a book be used only within the Swedenborg Library building, usually if it is rare or fragile.
How do I check on the status of my requests?
From your ILL homepage, you can see the status or due date of your request.
The due date should be on the ILL slip attached to your book, but it can also be found on your ILL homepage under the items' status. Our ability to borrow items via ILL is dependent on the good relationships we have with other libraries. Please return items punctually.
Once a book is checked out to you, you will see the option to "renew" next to your item's due date. We recommend renewing an item the week before it is due. It is up to the discretion of the lending library whether or not to approve your renewal request. Most lending libraries will not renew a book more than once.
What types of things can be ordered through ILL?
Books and articles are obtainable. Requests may also be made for thesis or conference papers, DVDs, or CDs, but the lending library may restrict use or not allow these materials to be sent. DVD and CD requests must be for educational purposes only. Books for classes that can be found in the bookroom will not be ordered. If you have an item you would like to request but are unsure if it is acceptable, please email us at interlibrary.loan@brynathyn.edu
Articles will be delivered electronically. On your ILL page you will see an "Available to view" option as your request's status. If you click on it, your article will automatically download. Articles are deleted from your account page after 30 days and 5 views.
How long does it take to get ILL books and articles?
On average, books take a week and articles take one or two days. They may arrive even sooner, but we advise that you plan ahead for them to take up to two weeks.
How many requests are allowed?
There is no limit to the number of ILL requests you can make. No more than 25 requests may be active at one time. An item may only be requested once per term.
Due to copyright restrictions, there is a limit to the number of articles our library can request from one journal during the calendar year.
Is there a charge to make an ILL request?
The Swedenborg Library does not charge you for using its ILL service. Many libraries will lend to us for free, but some lending libraries charge a fee. If a request can only be found through a library that does charge, we will contact you to find out if you are willing to pay the charge for the item. We will not request items requiring payment without your consent.
Are there fines for books being overdue or lost?
Yes. There is a $0.25 charge per item per day overdue. If a book has been lost or damaged, you will have to pay the replacement or repair cost charged by the lending library. Our ability to borrow items via ILL is due to the good relationships we have with other libraries. Please treat items carefully and return them punctually.
You will not be able to make new requests until your fines or charges are paid.
What does it mean if it says I am blocked?
It means you cannot place ILL requests, because you have an overdue item or unpaid fines for ILL. Once your books have been returned and your fines have been paid, your block should be removed.
Lending libraries reserve the right to recall items at any time. It rarely happens, but we need to return the item to them as soon as possible when it does occur. Any recalled item not returned within one day of notification will be charged $0.25 per day.
How do I get an ILL account if I am a community patron?
Patrons who had an account with our old ILL service, still have an ILL account now. Your ID will have changed to your first initial and last name (e.g. JDoe). You can use that to follow the instructions above to activate your account.
If you did not have a previous account, we can create one for you. You will need to have an active account with our library and to email Interlibrary.loan@brynathyn.edu or talk with someone at our circulation desk.
How do I change my contact information?
From your ILL homepage, scroll down and click on "Communications preferences."
From there, you can type in your preferred email address and cell phone number. You have options to receive notifications through email, through text, or not at all. We recommend receiving notifications so you will know when your items are available.
You can reset your password from the login page. Click on "set/reset your password", after receiving the password re-set email and creating a new password you will be able to login.
Materials borrowed through ILL are subject to copyright laws. For more information see the University of Texas Libraries, http://guides.lib.utexas.edu/copyright – The Copyright Crash Course ©2001, 2007 Georgia K. Harper
If you need help, please visit or call the library. We are happy to assist you.